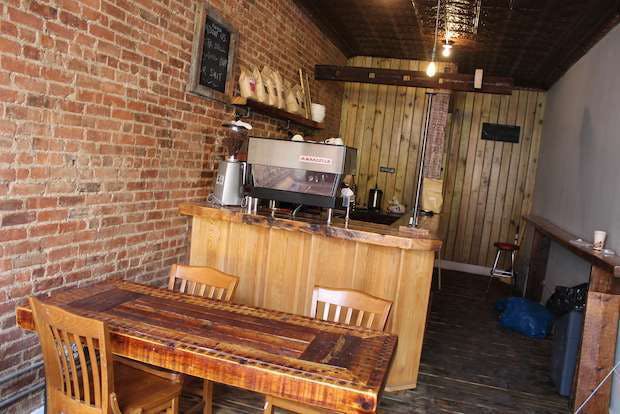 As Brooklyn sees more and more of the development and renovation that come with gentrification, one new coffee shop in the Bed-Stuy neighborhood was inspired by and will focus on serving the men and women who carry out all that developing and renovation.
Kava Shteeble (Yiddish for coffee house) was opened by a group of construction workers who noticed a "lack of coffee options" in the eastern part of the neighborhood, according to a report from DNAinfo New York.
"We were a whole group of people who work around here and there was nowhere to get a cup of coffee," shop manager and contractor Yidy Brier told DNAinfo. "So we decided to open our own place."
The interior of the shop features a design heavy on wood and exposed brick. The shop is filled with whatever wood that could be found from construction sites, dumpsters and abandoned homes. For instance, the bar is made of a staircase turned on its side. The facade of the shop was replaced with glass and the originally tin ceiling was exposed.
And while tradespeople inspired this spot, Brier says it will be a place where everyone will feel welcome—including coffee lovers and those whose work involves a computer rather than a hammer, according to a report from The Jewish Week. Brier says Kava Shteeble is getting its coffee beans from Crop to Cup, a nearby shop he credits for his introduction to "high-quality" coffee.
"We want you to come here, hang out, do some work on your computer," Brier told The Jewish Week. "We want everybody to feel welcome."