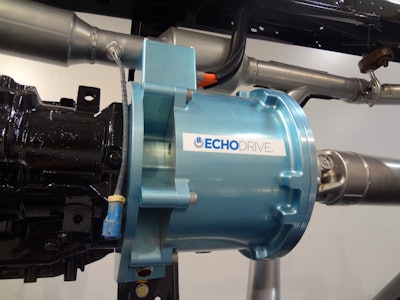 Editor's Note: This article has been updated to note that EchoDrive cannot be installed by anyone not approved by Echo Automotive. DIY installs without Echo training will void product warranties.
The day has finally arrived when you or your shop mechanic can convert your conventional, gas-powered heavy-duty pickup into a plug-in, hybrid-electric model before lunch time.
At least that's what Dave Crecelius, Vice President of Echo Automotive, says is on the table starting this fall.
The company's new EchoDrive bolt-on hybrid-electric system, which can reduce annual fuel costs by as much as 50-percent in some cases, consists of a Remy electric motor and a light-weight battery storage system.
EchoDrive is currently being offered as a "ship-thru" upfit that routes 2015 and newer Ford E-Series and GM heavy-duty vans from the factory to a Leggett & Platt CVP installation center where the system is installed before being sent on to the customer.
But Crecelius says that in the new future EchoDrive will also be offered direct for installation on 2015 GM 2500/3500 gas-powered 2WD pickups. Installation is performed by an Echo-certified installer. Customers may choose to use a certified partner in Echo's nationwide installation network or get training and certification for their in-house tech(s)
[youtube PKIQYO3adyc nolink]
Adding the electric-hybrid system takes about four hours and is said to be an easy upgrade that can be done by any experienced shop mechanic. The installation requires bolting the electric motor to the transmission's tailshaft, removing the spare tire to install the battery pack, and running the plug-and-play wiring harness.
The beauty of the system is it can easily be moved from truck to truck, so at the end of one's lease period or trade-in, it can be moved to another in the fleet, further increasing ROI.
The weight of the kit is about 300 pounds and will be in full production at the end of this year, according to Crecelius.
Crecelius says the Remy motor adds 226 lb-ft of torque at launch and 40hp to the existing powertrain, significantly increasing the truck's launch performance and increasing stop-and-go city fuel economy by more than 40 percent. However, Crecelius says the system has little or no effect on highway fuel economy.
During the drive cycle, EchoDrive's electric motor automatically applies torque to assist the engine using sophisticated algorithms to control the process.
"The workload reduction is similar to what a vehicle experiences when going downhill," says Crecelius, "but with EchoDrive, the assist is continually adjusted to provide optimal efficiency."
Echo Automotive has also set up Meineke and and other mainstream transmission centers to handle installations for those who want to retrofit their vehicles but don't have a shop of their own to handle the installation.
EchoDrive is being offered as a $12,500 upgrade. But that initial sticker shock is far less intimidating if you consider Echo Automotive has a lease program that is less than $200/month.
This should make the system of great interest to landscapers and others who do a lot of start/stop driving day-in and day-out.
"We have a 3- and 5-year lease program that costs less than than many company's monthly fuel bill for a single pickup," says Amy Dobrikova, Echo Automotive's VP of Business Development. "At the end of the lease the customer can remove the EchoDrive system and send it back to us, or they can purchase it for the residual value."