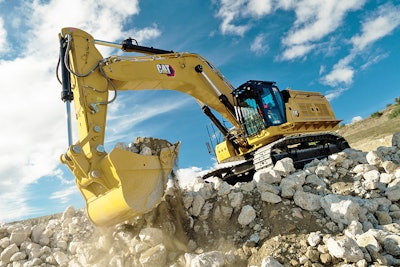 Caterpillar
The upgrades on the new 484-horsepower Cat 374 excavator focus on the things that matter in demanding conditions: high loading production, a 20% reduction in maintenance costs, and a beefed-up boom, stick and frame designed to deliver twice the durability of the previous 374F.
In fact, Cat says the 374 can now load up to 33 Cat 772 trucks per hour working at 100% jobsite efficiency. (This assumes a 6.5-cubic-yard bucket working in 1.6-cubic-meter material density.)
Using a new dedicated hydrostatic swing circuit, the 374 can regenerate swing brake energy and independently manage cylinder oil flow, Cat says. This circuit has a dedicated bi-directional swing pump, swing motors, charge pump and charge accumulator. The swing pump supplies oil to the swing motor; the charge pump and accumulator prevent cavitation (air bubbles) and overheating.
All of this gives the machine the ability to multitask with ease, Cat says.
"The dedicated swing pump offers 10% more swing torque," says Ryan Neal, Cat market professional, speaking during a recent Cat press event. "If you're trying to cast material uphill, this is going to help you get that material up; 10% is noticeable."
Technology equals production

Caterpillar
Easily accessed and understood technology also leads to productivity improvements, Cat says. Standard 374 technology includes Cat Payload, which offers on-the-go weighing to prevent both overloading and underloading trucks, and Cat Grade with 2D, giving operators visual guidance on the touchscreen monitor to make accurate cuts.
The Cat Grade with 2D also can be upgraded to Cat Grade with Advanced 2D –which includes an additional touchscreen monitor and enables in-field design capabilities -- or to Cat Grade with 3D, which adds GPS and GLONASS positioning.
In recognition that these machines sometimes work in remote areas, operators can download machine information via the USB port for up to 30 days with no need for an internet connection or a Cat VisionLink subscription.
Other technology pieces include Lift Assist, 2D E-Fence and Auto Hammer Stop.
Lift Assist helps prevent the excavator from tipping by quickly calculating the weight of the load being lifted and comparing it to the excavator's rated capability.
"We've basically digitized the lift chart," Neal says. "It's letting operators know at all times where they're at with their load."
2D E-Fence provides a geofence, keeping the excavator within defined vertical and horizontal parameters, reducing the risk of underground or above ground utility damage.
Cat says Auto Hammer Stop prevents unnecessary wear on the hammer and machine; the system issues an alert after 15 seconds of continuous firing and automatically stops after 30 seconds of continuous firing.
The cab as office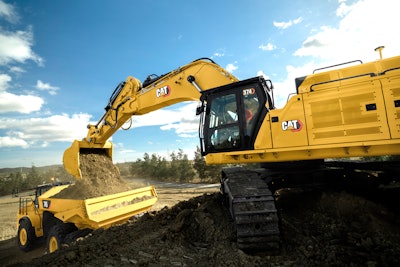 "This is typically a production machine and you're not getting in and out of the cab 10 times a day," Neal says. "You're sitting in the machine, it's like your office. Because of that, we've put in a lot of creature comforts to make the operator environment better."
The 374 offers a choice between a Deluxe (includes heated air suspension seat) and Premium cab (heated and cooled seat).
Standard features include a front-facing control panel, keyless pushbutton start and large touchscreen monitor with jog dial keys.
Compared with the 374F, viscous cab mounts reduce vibration up to 50%, Cat says. Also included: a Bluetooth-integrated radio and USB ports for phone charging.
In addition, "we've shaved the corner off of this machine for visibility," Neal says. "Being able to look out that front right corner has been a great benefit on a machine this size."
The Cat 374 also has "a full redesign of the premium light package that works great with additional cameras," Neal says.
Using the optional 360-degree camera gives operators what Neal calls "a full drone view."
He adds: "With a machine this size, there are blind spots. Having that visibility completely all the way around is a huge safety factor."
As with the Cat 393, the 374 has an optional counterweight removal system. "It really assists you in getting the counterweight away from machine," Neal says. "It's quicker, it's efficient and we've gotten great feedback about it."
Maintenance costs slashed 20%
Service intervals have been extended and synchronized throughout Cat's next gen excavator line, and the 374 is no exception.
Several factors have led to an overall up-to-20% maintenance cost reduction compared with the 374F, Cat says:
· New air filters with an integrated pre-cleaner and primary and secondary filters provides double the dust-holding capacity of the previous design.
· A new hydraulic return filter has a 3,000-hour service life, a 50% increase over previous filters.
· Fuel system filters are synchronized for service at 1,000 hours, a 100% increase over the previous filters.
· The fuel system's water and sediment drains and hydraulic system's oil level check are positioned close together at ground level.
Twice as strong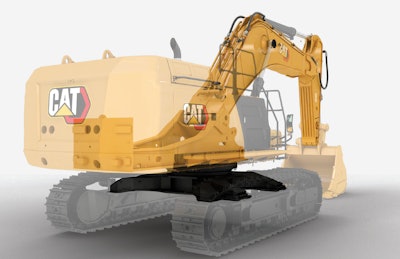 Cat says the 374's boom, stick, and frame is twice as strong as those on the 374F.
Cat put increased top and bottom plate thickness on its booms; sticks have increased side, bottom and bracket plate thickness; and frames have increased thickness in the base frame and counterweight mounting plate.
Additional reinforcements are built into the car body, track link, track rollers, and boom, stick and bucket cylinders.
"We've added more steel to the rollers and the track links," Neal says, giving them more durability when working in hard rock or abrasive materials.
Additional features
Powered by a Cat C15 484-horsepower engine, the 374 has three power modes: ECO mode lowers engine speed and cycle times while maintaining breakout force; smart mode automatically matches engine and hydraulic power to job conditions, and power mode offers maximum power at all times.
A new on-demand cooling fan operates only when required; an optional auto reverse function assists with cleaning debris from the cooling cores.
Attachment options include the Work Tool Recognition, which automatically adjusts hydraulic system parameters to an attachment identified by the system. In addition, the PL161 Attachment Locator quickly finds attachments and other gear up to a distance of 300 feet away using the 374's on-board Bluetooth device or the Cat app on your phone.