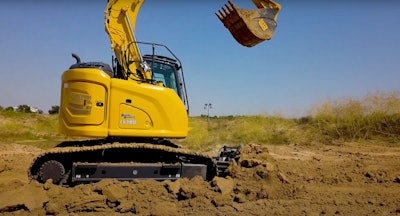 Kobelco is rolling out the new generation of its ED160BR-7 Blade Runner, which it calls two machines in one – a crawler excavator with true dozing capability thanks to a large-capacity, six-way dozer blade.
Kobelco says the blade goes beyond the typical backfill blade by providing power, angle, tilt and lift capacity and that it can be used for site-prep and slope grading.
The blade can be angled 27 degrees left or right. It also tilts up on the left and right sides by 17.5 inches for slope grading, culverts and ditches.
It has a drawbar pull of 43,800 pound-feet. Dozer capacity is 2.1 cubic yards. The blade is 31.9 inches high, 10 feet 8 inches wide, has a 31-inch raise height, and 23.6-inch dig depth.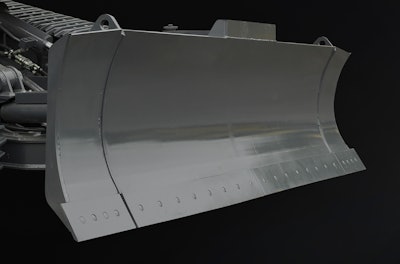 The excavator side of the Blade Runner boasts 24,800 pounds of digging force and a 19-foot digging depth. Max digging reach is 29 feet and max digging height is 32 feet.
Kobelco says it also increased swing speed by 11 rpm over its predecessor to shorten cycle times by 10 percent. It has a tail-swing radius of 4 feet 11 inches. Ground clearance is 17.9 inches. Bucket capacity is .5 cubic yards.
A new Tier 4 Final, 105-horsepower Isuzu engine boosts output by 10 percent. It uses a diesel oxidation catalyst to meet emissions standards and does not have a diesel particulate filter. Kobelco's independent travel feature enables it to move, lift and swing simultaneously without losing power, the company says.
Kobelco also made the Blade Runner easier for operators to change and use attachments. The attachment selection system provides adjustable hydraulic-oil-flow presets for bucket, breaker, nibbler and thumb. Mode settings can be changed, or added for a tiltrotator or other attachments.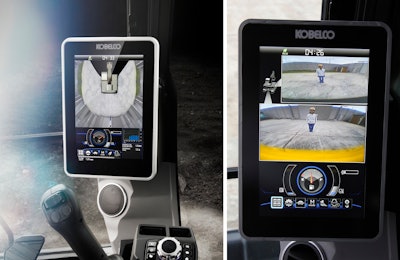 As standard equipment, operators get a Grammer air ride suspension seat and an ergonomic control lever that can be moved horizontally without twisting the wrist. The cab is also equipped with a 10-inch color monitor; built-in rear, left and right-side cameras with a customizable split-screen display function; a new jog dial with multiple operating features; a multi-vent air conditioner; and an unfastened-seatbelt indicator.
Kobelco's iNDr Cooling System prevents dust from clogging the machine's coolers and dampens noise. Kobelco says it also extended the intervals for changing engine and hydraulic oil and filters and for greasing. The Blade Runner offers remote diagnostics and preventive maintenance scheduling through telematics.
To watch the Blade Runner in action, check out this video from Kobelco: