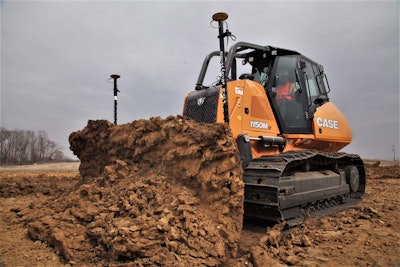 Case Construction Equipment
CNH Industrial is having an ongoing discussion with the local United Auto Workers union to move its Case M Series dozer production from Burlington, Iowa, to an undisclosed plant outside the U.S.
The move was reported by The Hawk Eye newspaper; CNH indicates that an official company announcement is expected at a later date.
"This move is intended to optimize our global manufacturing operations," the company said in a statement to the newspaper. "Upon completion, the manufacturing process in Burlington will become more streamlined, and the facility will be transformed into a North American Manufacturing Center of Excellence for backhoes, tractor loaders and rough terrain forklifts."
Six years ago, the Burlington plant received a $24 million expansion, in part to include dozer production.
Case CE announced in 2014 that it would move production of its M Series dozers from Calhoun, Georgia, to Burlington. The Calhoun plant closed in 2015, a move CNH said at the time was part of streamlining measures it deemed "necessary as the company adjusts its construction operations based on current volumes and market demand."
The newspaper says Case is still in the process of decisional bargaining with United Auto Workers Local 807, which represents the plant's hourly workers. The union local was contacted by the company about the change July 1st.
Case currently makes six dozer models, ranging from the 68-horsepower 650M to the 214-horsepower 2050M.
In addition to the dozer line, CNH said it would discontinue producing its agricultural header line in Burlington.