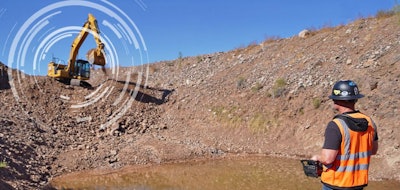 Caterpillar
Mid-sized excavators have joined the lineup of Cat machines that can be remotely controlled using a console or station.
Cat Command for Excavators — which encompasses both Cat's line-of-sight remote control console and its non-light-of-sight remote control station — is now available on its 20 -to 40-metric-ton excavators.
Through a dealer-installed kit, both new and in-the-field Cat 320, 323, 326, 330, 336 and 340 models can become Command-ready.
Conexpo splash
The non-line-of-sight Command station debuted at ConExpo 2020 and offered a tantalizing glimpse of the future, giving operators the ability to operate a machine they aren't in and can't see.
Instead, equipped with several monitors and a control station that mimics but isn't quite like those found in cabs, operators can safely operate a machine in hazardous situations, such as those found in unstable underfoot conditions, brownfields, shore work and demolition.
The really cool thing? One station can control several types of machines, albeit one at a time. Cat Command for loaders is already out. This excavator launch is the second machine type in the Command lineup, and dozers are slated to come out later this year. Cat says it intends for the vast majority of its product line to become Command compatible over time.
In addition to the safety advantages is the ability to put the Command station operator into a climate-controlled environment.
Situated in a jobsite trailer or an office, operators may be able to wear regular street shoes and heat up lunch. They're protected from the weather, and the bathroom is down the hall instead of parked in a field. Shift changes don't require repositioning the excavator.
In addition, those with physical limitations could be given a chance at a job that doesn't come with the rigors of the jobsite.
How it works
We gave a lot of the Command nitty-gritty here in our April story. In short, Command operations are integrated with the machine's electronics.
In the case of the Command station, the excavator's roof is outfitted with cameras, indicator lights, microphone, a wireless receiver and antenna.
The Command for Excavating line-of-sight console option uses a shoulder harness and lightweight console to allow operators to control a machine from up to 437 yards away. All excavator movements are stopped when the remote shutdown switch is pressed, wireless communication is lost or the console is tilted more than 45 degrees from its normal operating position.
Regular Cat excavator features such as Grade Assist, Swing Assist and E-Fence can also be used with both Command options. Using a ground-level switch, excavators are switched between remote and manual operation.