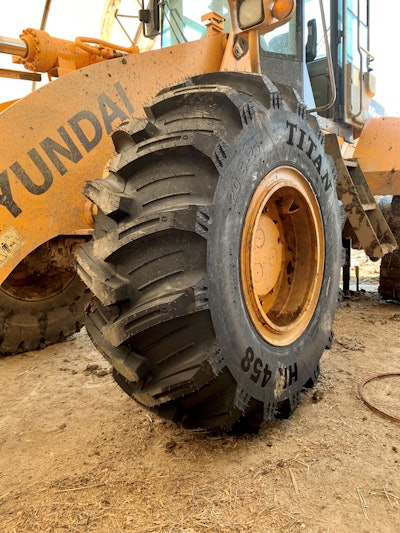 Titan International
Construction tires have it tough in this world. They must shoulder incredible loads, stand up to abrasive conditions, provide traction in everything from deep mud to slick muck and shrug off potential stab wounds from roots, rock and rebar.
To meet these severe demands, Titan International has introduced a new hybrid wheel loader tire, the HK 458.
This crossover design is engineered to give you aggressive traction, an open tread for good self-cleaning, and rubber compounding formulas that resist wear and can handle extreme conditions. The E-4/L-4 dual-rated bias tire combines the tread design of a forestry tire, a wheel loader tire and an ATV tire all in one — making it ideally suited for muddy, challenging construction sites as well as agriculture applications.
The open tread pattern and rubber compounding are derived from Titan's forestry tires to reduce wear rates. Multiple layers of high-elongation steel belts underneath the tread provide puncture resistance, which is crucial on rubble and debris-littered construction sites.
The HK 458 tires come in two diameters, 59.20 and 63.20 millimeters.