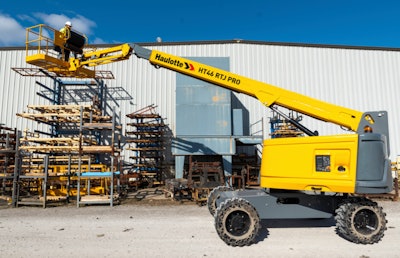 The latest addition to Haulotte's all-terrain telescopic boom aerial work platform lineup can reach heights of 46 feet for outdoor heavy construction and other work.
The HT46 RTJ O/Pro model for the North American market also has a 42-foot 8-inch horizontal reach, which is the longest in the 40- to under-50-foot height class, according to the 2021 Spec Guide by Equipment World.
The platform capacity is 550 pounds, which can be increased to 770 pounds with a dual-load option.
Along with added outreach, Haulotte designed the mobile elevating work platform to climb over obstacles and traverse slopes as steep as 45 percent. It can be operated on uneven surfaces with up to a 5-degree tilt angle.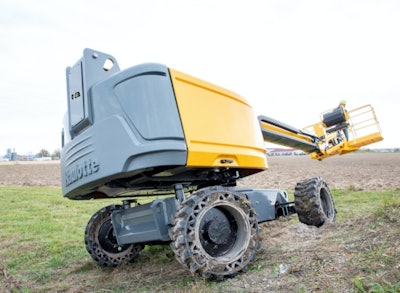 The company says the HT46 RTJ is the only telescopic boom in its class with a four-wheel steering mode. The mode shortens the turning radius for maneuvering tight spaces. It also features a crab mode for accessing cramped areas.
The boom reaches full height in less than 1 minute, Haulotte says. The turret enables 360-degree rotation. The operator can engage the rear differential lock for increased traction in rough terrain. The company says the proportional joystick controls deliver smooth, precise operation for moving the platform up and into place.
For added safety, the HT46 RTJ comes with Haulotte's Activ'Shield Bar, which is designed to prevent the operator from being crushed in an entrapment situation. In cases where an operator is headed backward into a wall or other obstacle and are pushed forward, the front of their body will hit the bar causing the machine to automatically cut off and also giving the operator space away from the object. Watch the video below to see how the system works:
The company also added an Activ'Lighting System for operating in low light. The integrated lights illuminate the driving zone and control panels.
The lift's 24-horsepower diesel engine achieves Tier 4 Final emissions requirements without a diesel oxidation catalyst. The engine will automatically cut off after idling for 90 seconds. It restarts when pressing the dead man pedal. Haulotte says this feature reduces noise and can cut fuel consumption by 20 percent.
Haulotte says sensitive components such as the steering cylinders, jib and cable channels are protected from damage, and maintenance points are easy to access and replace. The Haulotte Activ'Screen onboard diagnostic tool provides access to machine configuration, information on machine functions and recommendations for preventive maintenance, the company says.