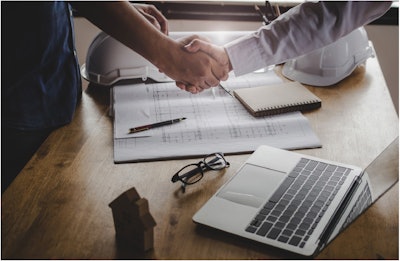 Despite the pandemic, some financial institutions are reporting increased lending activity for used equipment.
Rich Fikis, president of Komatsu Financial, says that in April at the beginning of the company's new fiscal year, used equipment lending was off to a slow start, but then May brought a hefty bounce-back.
"It looks like some people were probably sitting on the sidelines trying to figure out what might happen, but our May was actually our strongest May in the last three years as far as used equipment financing goes," Fikis says.
Komatsu focused on its equipment coming off lease and launched an aggressive campaign offering 36 months at zero-percent interest – the first time in company history for zero-percent interest on used equipment. It has also been offering 90 days of no payments on loans and providing one-year warranties on its used equipment. As the pandemic took hold, such incentives became even more helpful for contractors concerned about preserving cash flow.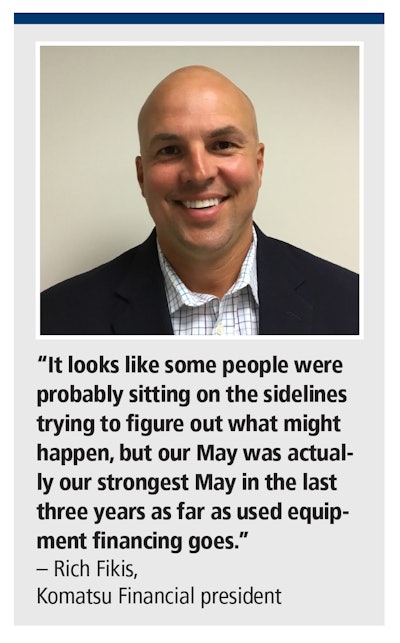 "Cash flow is definitely a concern right now," Fikis says. "A lot of the customers we're talking to still have a sizable backlog from before the virus hit but are just a little bit more cautious about cash flow."
Komatsu offers complimentary maintenance on its new equipment through its Komatsu Care program. Fikis says the regular maintenance that occurs under the Komatsu Care program enables the company to provide a one-year warranty on its certified used equipment that comes off lease.
"It's been generating some good buzz with our used-equipment managers," he says of the company's incentives. "In times like this, any little extra to get someone over the hump is helpful. If the customer is considering rental or new or used, any extra leverage helps them when they make that buying decision."
John Deere has also seen a boost in lending activity and offered aggressive incentives for used equipment.
"We have seen a modest increase in the used equipment market this year over the last two years," says Jayma Sandquist, Deere chief marketing officer and senior vice president U.S./Canada.
"Initially, as states were shutting down, we saw projects being placed on hold or delayed as both our dealer channel and customers implemented safety protocols," she adds. "Now, as states are beginning to relax restrictions, renewed interest is occurring."
At the onset of the pandemic, Deere offered 90 days of no payments and zero-percent interest on its certified used construction equipment.
"We believe contractors are looking for options to protect and maintain cash flow in response to pressures in the construction space, as well as the energy segment," she says. "As states begin to open, our dealer channel is focused on having the equipment available with different finance options and/or rental options to support customers."
Contractors with credit issues
The various incentives being offered by large equipment manufacturers and lenders are often tied to a contractor's credit rating. And those with poor credit or new businesses that have not established a credit history might have to search for other lending options, if mainstream banks and financial firms turn them down.
That's where Y.E.S. Leasing has found its niche. The company offers lease-to-own options for its customers and doesn't look at credit history. (Y.E.S. stands for Your Equipment Specialists.)
"A lot of companies are looking at business credit history," says Cory Cataldo, the Miami-based company's chief development officer. "We're looking at your business. We want to know you, know what you're doing."
Cataldo says the company's business has stayed strong during the pandemic, especially as some mainstream financial institutions have tightened lending standards.
The company's leases are actually more similar to loans than traditional leases, but with some differences. Instead of a down payment, customers provide a deposit. But the deposit goes toward the purchase of the equipment. At the end of the lease, the customer owns the machine, instead of traditional leases in which the equipment returns to the finance company. The leases do not have an interest rate as do loans. But they do come with a steep price.
As an example, Cataldo says, the purchase of a $100,000 piece of equipment over three or four years with a deposit of $20,000 would cost the customer about $180,000 over the life of the lease. "And that's a lot, 180 on 100," he says. "But at the end of the day, with the equipment we're funding, you're typically going to make anywhere from $800,000 to over a $1 million for having it."
"We take a lot of risk. We charge a lot of money, but we are not sharks," he adds. "We do things that make sense for our customers. And we like to say, 'We're the best of the bad options.'"
He says leasing with the company will cost less than renting a piece of equipment over the same term. "On a $100,000 price point, we're typically $150,000 cheaper than renting over a three-year period."
The company limits its exposure to $150,000 per used machine, and up to $200,000 for a used directional drill due to the higher price points on good used drills. Deposit requirements range from 15 to 20 percent of the purchase price. Terms are typically 36 to 48 months.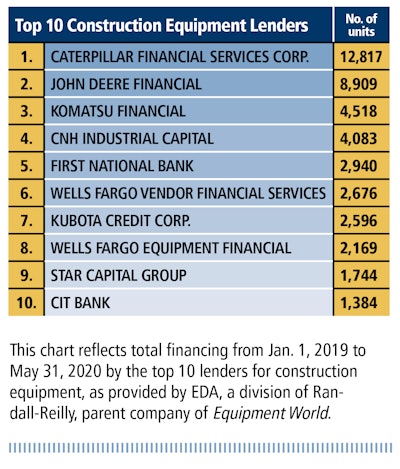 Most of its customers are either small firms bringing in $20,000 a month in revenue and have a few employees, or firms that bring in $200,000 a month with 30 to 40 employees, Cataldo says.
"We work with guys that typically would have had trouble getting financed. It's usually challenged credit," he says. "We look a lot at cash flow and what they bring in, and we look a lot at not just their need for the equipment, but our knowledge that they're going to make more from that equipment than they pay us for it, so that it's worth it for them to keep paying."
Rather than looking at credit ratings, the company examines a contractor's cash flow. "Usually if what they bring in gross is about 50 percent of the cost of the machine they want to buy, we approve that person 90 percent of the time," Cataldo says. "Now if they meet that metric, about half the time they end up getting approved for a 15 percent deposit."
The company requires an application and for the applicant to show the past three months of the business' bank statements. The company also goes through a questionnaire with its applicants to get a better idea of the business, its projects and why it needs the equipment. If the application proceeds, the company wants verification of contracts and bank statements. It does not run a credit check, which could hurt a customer's credit rating.
Y.E.S. will finance auction purchases and can give approval before the auction occurs, Cataldo says. It will finance contractor-to-contractor sales but tries to steer buyers toward authorized equipment dealers instead. Private party sales can run into title problems on the equipment, in which the seller may not even be authorized to sell it. It can also be a problem if the equipment proves to be a lemon.
"The advantage of when you're buying at an authorized dealer is that if you do get a piece of junk, they have to care," he says. "…And they have a staff that could at least work on it and fix it for you."
Ditch Witch of Florida Caribbean steers its customers toward Y.E.S Leasing when they do not qualify for other financing.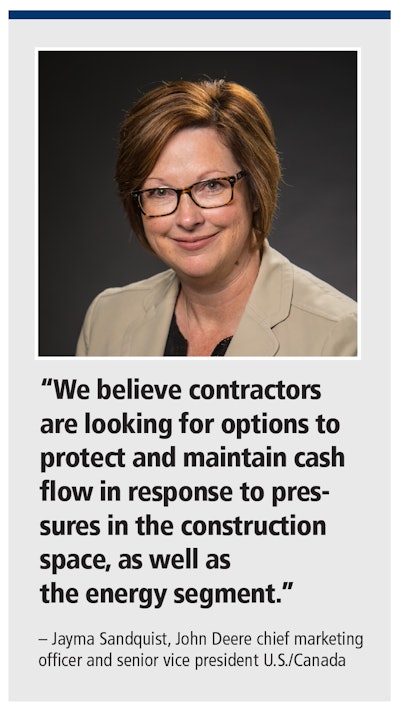 "Y.E.S. is a great option for people that have a good business, they just have challenges elsewhere," says Gary Landry, territory sales manager for the Plant City-based dealership. "It is a more expensive product, but it can get equipment in their hands."
"Is a great option? No," he adds, "but it's an option that if you can get a piece of equipment that you can make a bunch of money off of on a monthly basis, then it's worth it."
Hitting financial trouble
Financial institutions are reporting an uptick in contractors seeking new terms on their equipment financing and in some cases defaulting on loans during the pandemic.
"We saw a historic number of requests for payment relief and we were able to accommodate the vast majority to help our customers through these challenging times," says Deere's Sandquist. "We also proactively called many of our construction customers to gauge confidence in their financial situation, and we worked with them to revise schedules if necessary and appropriate."
Komatsu's Fikis said the company also saw an increase in requests to restructure. "It's definitely not unprecedented or unexpected," he says. "We learned a lot from the 2008-2009 years. We assisted a decent chunk of our customers then, but we also understood very quickly that it led to a lot of customer loyalty after we were willing to assist in those times. So we were proactive in March in reaching out to customers to offer assistance as needed during the uncertain times."
Communication is the key – and sooner rather later – for contractors who foresee challenges in making payments.
"Communication is 100 percent the most important thing in this situation," Fikis says. "We always know that there's going to be those peaks and valleys where customers struggle. But if they're talking to us about those struggles, the vast majority of the time we can find a way to assist them and help them get through this difficult situation.
"I can't reiterate enough that proactive communication is by far the most important aspect of that."