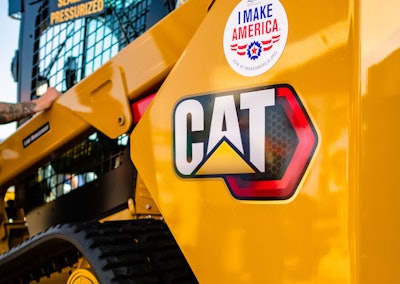 Caterpillar 1Q sales and revenues took a 21 percent dive, with the firm reporting $10.6 billion versus $13.5 billion for 1Q 2019.
"The decline was due to lower sales volume driven by lower end-user demand and the impact from changes in dealer inventories," says Cat, reporting that dealers increased machine and engine inventories by about $100 million during the quarter, compared with $1.3 billion during the same time last year.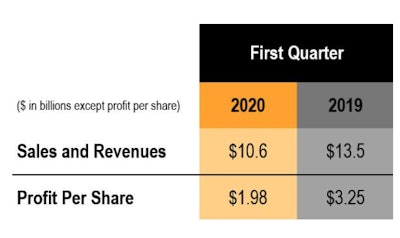 Delving into its response to the COVID-19 coronavirus pandemic, Cat says it suspended operations temporarily at certain facilities "due to supply chain issues, weak customer demand or government regulations." As of mid-April, Cat says about 75 percent of the company's primary production facilities continue to operate.
Cat warned that it may temporarily suspend operations at additional facilities "if warranted by business conditions." The company says it is prioritizing spending to allow continued investment in services and expanded offerings, part of its strategy for growth introduced in 2017.
Cat withdrew its 2020 guidance on March 26th and says it is not currently providing guidance for the year.
Cat released a video in its 1Q release, featuring comments by Andrew Bonfield, chief financial officer. Around 4:35 into the video, he and Rusty Dunn, Cat enterprise communications, wax nostalgic about ConExpo, which occurred in mid-March. "It reminds us what we can get back to here in the near future hopefully," Dunn says.