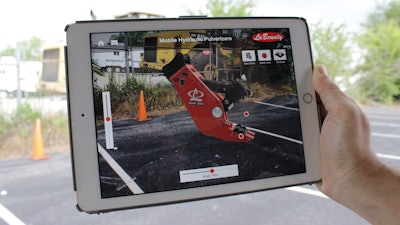 A 3D and augmented reality tool Stanley Infrastructure started using almost a year ago is helping its sales force and dealer partners demonstrate attachment features remotely in this time of social distancing.
Working with software provider Trick 3D, Stanley Infrastructure has put several of its more than 200 product categories on what it calls its ToolBucket app, which provides interactive 3D graphics of attachment features. (The company's brands include Stanley, Paladin, LaBounty and Pengo.)
"With that many products, we can't put all of them in the back of a truck and take them to a customer," says Ian Harney, Stanley's vice president of channel and brand marketing.
The Tool Bucket also helps engage customers in a new way, Harney says.
"It's interactive, you can zoom in and out, rotate and demonstrate how it works," he comments. This is especially helpful with the more involved attachments the company produces, such as its LaBounty shears and processors. "It's also a great tool to use at trade shows," he says. (View the video below to see additional product features.)
Software provider Trick 3D used Stanley's CAD models to create the animations, working with the company to determine which features and benefits to call out.
"One of the big advantages to using augmented reality is that it gives users an accurate scale, allowing them to view it in the environment where the user is running the app," says Chad Eikhoff, Trick 3D studio founder. This can be helpful when looking at issues such as whether a product can fit on a specific trailer or within a specific space, for example.
"After we get the CAD files from the manufacturer it takes a short time to put the modeling in place," says Elliott Rothman, Trick 3D head of technology. Updates can be downloaded from the cloud.
While the coronavirus has put a premium on virtual sales solutions, Harney says, Stanley's Tool Bucket is valuable even in normal times. "Regardless of the situation," he says, "it makes it easier for our customers to engage with our products and speeds up learning."
The Tool Bucket is also available on the Apple App Store. No WiFi or phone service is needed after the app is downloaded.