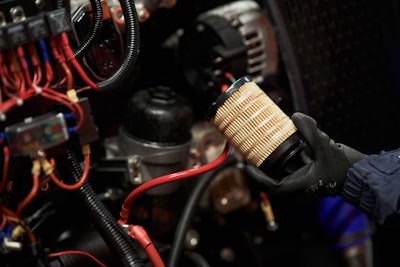 Changing an oil filter can be a messy business, but not with Perkins' new Ecoplus range of filters.
The filters are designed with a replaceable cartridge that fits inside the metal filter housing on the machine. The housing remains on the machine thus reducing waste and cost, and the filter cartridge sits at an upright angle.
As soon as you open the cap the oil in the filter drains back into the block and you can remove the cartridge with very little mess or spillage.
An improved bypass valve on the filter housing is less likely to open inappropriately and helps the engine prime more quickly by keeping the filter filled with oil. This fast oil circulation on start-up can protect sensitive components like turbochargers.
Perkins upgraded the filter as part of the design work undertaken on the new Perkins Syncro 3.6 and 2.8 liter engines.