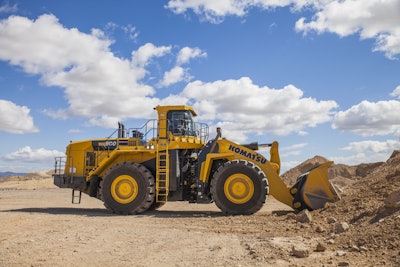 Stellar used equipment market softens … a bit. Here's what's hot and what's not.
Although the used equipment market has been steady, it doesn't mean there won't be softer prices ahead, especially compared with 12 months ago.
"It's still a strong market, even though it's not as good as last year," says Michael Cole with Cole Equipment, a used equipment dealer in Ada, Oklahoma.
"The low-hour machines will still bring a premium, but there's a lot of three- to five-year-old tractors out there in rental fleets, especially dealer rental fleets, that weren't supposed to be around that long," says Dennis Howard, vice president fleet and remarketing with Deere dealer RDO Equipment. "We'll see that category start showing up on the market in the next three to six months and getting softer prices."
To read more, click here.
---
BFP Retro Ford F-150 offers two-tone and plenty of chrome
If you're feeling nostalgic for lifted, two-tone Ford trucks with plenty of chrome then a dealership in Cincinnati has got you covered.
Beechmont Ford's 2019 Retro BFB F-150 offers a 3.5-inch Ready Lift, 17-inch polished Mickey Thompson wheels wrapped in 35-inch BFG All-Terrain K02s, chrome Black Horse Bed Rack, chrome KC Hi-Lights and a Roush Performance Cat-Back exhaust "to unleash the roar from Ford's 5.0-liter Coyote V8," Beechmont writes on its website.
To read more, click here.
---
Doosan intros 19-ton DX170LC-5 excavator for easier transport, high performance
Doosan's new 19-ton DX170LC-5 crawler excavator is designed for easier hauling from job-to-job by reducing the need for a special transport permit, the company says.
Doosan had small to mid-size contractors in mind when adding the new model, which is geared toward handling such jobs as residential basements and commercial-building footings.
To read more, click here.
---
Nissan drops Cummins diesel in redesign of Titan XD for 2020
After a short four-year run, Nissan's diesel option in the Titan XD is coming to an end for model year 2020.
Lackluster sales are behind the company's move to nix the Cummins 5.0-liter turbo engine which made its debut in the 2016 Titan XD.
To read more, click here.
---
New Komatsu WA900-8 wheel loader designed for loading 150-ton trucks, easier operation
Komatsu's new WA900-8 wheel loader is designed for loading heavy dump trucks in quarries, with a bucket engineered for increased productivity, and for making life easier for the operator, the company says.
The WA900, which weighs 256,618 pounds, is geared toward loading haul trucks that are 70 to 150 tons. The company calls it the perfect machine for loading in limestone pits, "because the all new Komatsu bucket design, with modified profile, maximizes bucket fill to increase productivity."
To read more, click here.