Yanmar Holdings announced today that it is acquiring ASV Holdings for $70.7 million through the mechanism of a statutory merger, a deal it says will be accomplished with "virtually no overlap in distribution networks."
In a statement released today Giuliano Parodi, executive officer of Yanmar Holdings, says, "We believe that the Yanmar Group's acquisition of ASV will significantly bolster Yanmar's compact equipment offerings in the loader segment, a product range vital for success in the all-important North American market.
"With its highly-skilled workforce and quality CTL/SSL lineup, ASV is a great fit for both Yanmar's focus on quality, and our growth and expansion plans in the North American and global markets," says Parodi. The ASV employee base, its manufacturing and distribution facility, international distribution and supply chain will create a strong platform for North American expansion and be a key part of Yanmar's long-term international growth plans, say the two companies.
ASV brings its CTL undercarriage technology to Yanmar, which should help it gain sales in the ag and landscape markets as well as construction. For more on ASV's undercarriage technology, see our recent report here. (An overview of each company's product line is featured in the next section.)
"The merger will create a strong platform for growth and expansion, bringing together two leading brands with similar cultures and creating value," said Andrew Rooke, chairman and CEO of ASV. "The ASV product is complementary to the Yanmar portfolio of compact equipment creating a comprehensive equipment solution for current and future customers." Rooke also noted that the acquisition will bring Yanmar its only manufacturing facility in North America: ASV's factory in Grand Rapids, Minnesota.
Yanmar says it expects the acquisition to close in the third quarter of 2019 subject to approval by ASV stockholders. The company will acquire 100 percent of ASV's outstanding shares of common stock for $70.7 million or $7.05 per share—quite a bargain considering that Terex acquired ASV for $488 million in 2008, and Manitex bought 51 percent of the company from Terex for $125 million in 2014. ASV Holdings completed an IPO in May, 2017. As of March 2019, the company ownership was 55 percent public, 34 percent Terex and 11 percent Manitex.
According to a May 2019 investor presentation, the company saw $127.6 million in net sales in fiscal year 2018, 82 percent of which was in North America. It currently has 293 dealer/rental locations and adding retail distribution locations in North America was part of its growth strategy. The MSRP for new ASV models ranges from $43,000 to $125,000, depending on features and capacity. It also provides Caterpillar and others with undercarriages.
Construction products
Here's an overview of ASV's and Yanmar's current product offering as reported in the 2019-20 Equipment World Spec Guide & Yearbook, which will be published this October.
Perhaps an early indicator of the ASV buy, Yanmar declined to update its specifications for its two CTL models (T175-1, T210-1) and four skid steer models (S165R-1, S190R-1, S220R-1, S270V-1) for this year's Spec Guide, although the Yanmar CTLs are still listed on its website as of today.
In addition to the products listed below, Yanmar also manufactures tracked carriers, utility vehicles and utility tractors, as well as industrial and marine engines.
ASV compact track loaders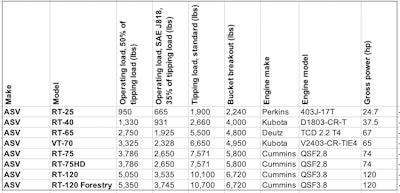 ASV skid steers
Yanmar compact excavators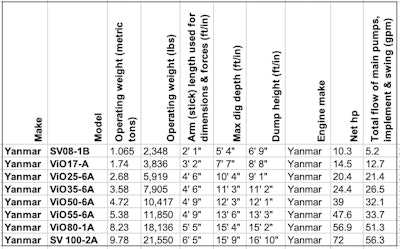 Yanmar wheel loaders
(Note: in addition to the compact wheel loader models below, Yanmar also makes the 100-horsepower, 1.6-cubic-yard bucket V12.)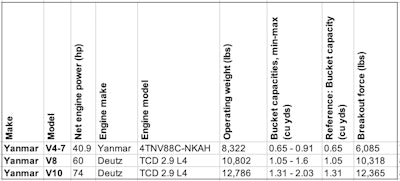 Additional reporting by Marcia Doyle.