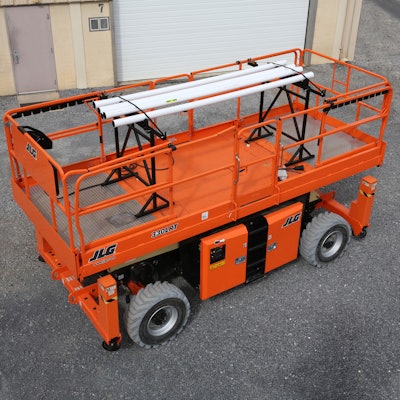 JLG's new material racks for its rough-terrain scissor lifts provide a safer, more orderly way to move large materials on the job.
The racks include nylon straps to secure heavy materials. The foldable cradle can accommodate such supplies as pipes and flat material. They also have extendable arms for loading wide panels. Fixed deck footers allow the extension deck to expand and retract for handling extra-large materials.
The racks have a load capacity of 860 pounds of material and can still leave room for two operators in the platform. They are designed for JLG's Large Rough Terrain (LRT) and Rough Terrain (RT) scissor lifts.
"Having the ability to transport large items on these lifts not only helps reduce ground hazards, but also contributes to increased worker output," says Rafael Nunez, senior product manager, scissor and vertical lifts, JLG Industries.