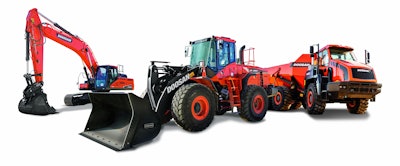 Doosan Infracore has announced a data partnership with a Silicon Valley startup the company says will "strengthen communication" between its businesses.
The Korean company is partnering with Palantir Technologies, a data analysis company that provides companies with a platform used in "various fields, ranging from the public sector to finance to manufacturing, to be used for arresting criminals, preventing financial risk, improving productivity and product quality, etc.," Doosan explains in a press release.
Doosan says it will use Palantir's technology to build a data platform to optimize the operation of its business and "speed up the decision-making process."
The company says the platform will allow it to "visualize data across businesses including, sales, production, R&D, quality control, customer services, and IOT (Internet of Things, i.e. telematics) solutions."
At a valuation of $20.5 billion, Palantir is the fifth-largest "unicorn," a startup with a valuation of at least $1 billion. Only Uber, Airbnb, SpaceX and WeWork rank higher.