In Paris this week, Wirtgen debuted a new milling drum assembly for the W 150 CFi, billing it now as the most powerful cold milling machine in the compact class.
The W 150 CFi package with the new five-foot-nine-inch width cutting drum assembly was shown for the first time at the trade fair.
The W 150 CFi is especially suitable for major construction sites in urban settings and elsewhere where space is restricted. It allows operators flexibility, thanks to three different milling drum speed options. The machine has a 400-horsepower engine for maximum torque.
It was one of 30 machines that Wirtgen displayed at the show in Paris, where visits were down slightly due to a strike by transportation workers this week but customer interest still high, according to a company spokeswoman Michaela Adams.
Wirtgen experts say the W 150 CFi's flexible cutter system enables milling drums with a working width between 23.6 inches and 4 feet, 11 inches.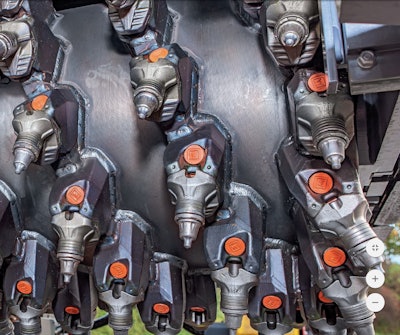 Operators can also achieve optimal weight distribution, the company says, thanks to the machine's low weight and centrally position milling unit.
For maximum traction of the crawler tracks, Wirtgen has adopted the central cutting drum design from its large milling machines.
To efficiently transfer the power of the W 150 CFi to the road, this model has an Intelligent Speed Control (ISC) traction control system so all four crawler tracks run at constant speed and high traction.
The electronic track control system minimizes track pad wear and guarantees traction regardless of ground conditions, Wirtgen says.
The front-end loading conveyor's speed can be adjusted, and there's a particularly large slewing angle of up to 60 degrees to both sides.
The travel speed is up to 4.7 miles per hour. And between sites, there's quick transport thanks to this machine's compactness and hydraulic folding conveyor. With an operating weight of 45,856 pounds, the W 150 CFi can be transported without a special heavy transport permit in most cases.
Automatic machine alignment, parallel to the road surface, comes via the four-fold full-floating feature, which has been enhanced to provide quick parallel alignment and perfect leveling capabilities.
Leveling system with wide variety of sensors.
The W 150 CFi also boasts the Level Pro Plus leveling system in its machine control system, which helps remove the pavement layers to the specified depth. Developed specifically for cold-milling machine, Level Pro Plus offers a free menu confiscation and intuitive one-hand operation via a rotary control.
There are displacement sensors integrated in the hydraulic side plate cylinders and then displayed on a high-resolution screen. And a hydraulic sensor detects the reference level in front of the milling drum.
Also, there are up five cameras plus a head-wearing screen on this machine. One camera each is installed at the end of the discharge conveyor and beneath the machine for images of the loading situation and the areas in front of the milling drum housing, the company says.
Quick-release coupling makes for easy plugging of hydraulic connections, and there's increased loading performance because the conveyor belt speed has been ramped up by 15 percent, and the cleat profile enlarged by 28 percent.
An adjustable canopy features literally telescoping extensions and movable glass in the front and back. There's also an air compressor system.
The new 5-foot-nine inch milling drum assembly for the compact milling machine W 150 CFi is already available on the North American market.
For more information on this machine, click here.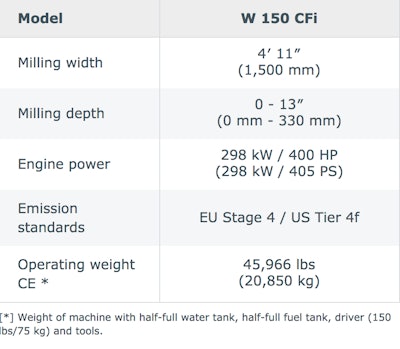 Also shown in Paris
Wirten experts were showing visitors how the AutoPilot 2.0 could bring higher paving accuracy at lower cost. And the Duraforce milling and mixing motor was billed as a rotor for all applications.
Wirtgen's other machines featured in Paris, and available in North America, include:
the compact cold milling machine W 100 CFi
WR 200i wheeled mobile cold recycler and soil stabilizer
Streumaster's binding agent spreader SW 18 SC
Slipform paver SP 64i
Wheeled recycler and soil stabilizer WR 240i
Tractor-towed stabilizer WS 250
WLM 30 laboratory mixer
WLB 10 S laboratory foamed bitumen plant
WLV 1 laboratory compactor