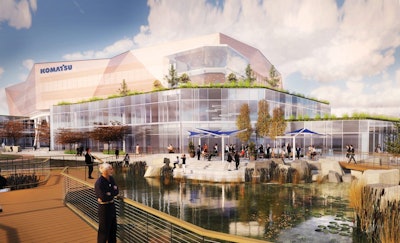 The Milwaukee Common Council has approved Komatsu Mining's plans for a waterfront headquarters campus in the city, clearing the way for the company to select a design team and general contractor, says the dailyreporter.com.
The company says it plans to begin the $285 million project in 2019. It will be located at the former Solvay Coke site near Milwaukee's lakefront.
When built, the new facility will replace the company's current site in West Milwaukee. The website says the company will receive as much as $40 million in tax incentives, in part because of the possibility of more than doubling the number of people it expects to employ. The firm currently employs 600 people and says it may employ up to 1,300 with the new headquarters. Other initial reports placed that number at 1,000 employees at the end of 12 years.
In addition to the tax incentives, the city will spend $15 million to build a riverwalk around the property and the Wisconsin Economic Development Corporation has committed up to $59.5 million to support the project.
Komatsu Mining's South Harbor Campus will eventually include:
Machine, heat treat and fabrication shops, in addition to technology, R&D and robotics labs
An office complex, including training, conference and data center facilities
A museum and store, selling mining equipment models along with Komatsu merchandise.
A City of Milwaukee public riverwalk adjacent to the campus.
The initial phase includes 170,000 square feet of office space, 420,000 square feet of manufacturing space and a 20,000-square-foot museum and training building.