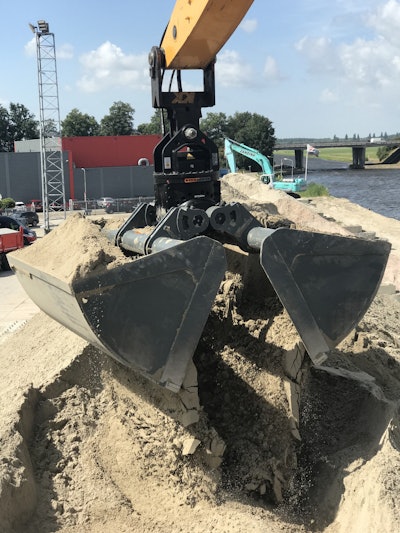 Kinshofer has designed the HPXdrive system to give its excavator and crane attachments more grabbing force and durability.
The system works with the company's various grapples and clamshell buckets. The latest attachment to be compatible with the device is the C40HPX material handler clamshell bucket for excavators with 20 to 40 tons of operating weight.
Rather than using enclosedhydraulic cylinders, Kinshofer equipped the drive with two hydraulically driven pistons. The compact, design also eliminates the need for short hose connections and has no protruding parts. It is resistant to dirt, blows and uprising material, and it is waterproof so it can be used in operations that involve submerging the attachment, the company says.
The drive delivers constant closing forces during the entire gripping process and leads to faster load and unload cycles. It also can be rotated for precise placement.
"The constant closing force ensures optimal strength and powerful penetration even in tough soil or while handling heavy material," the company says. "Operators will also experience improved gripping capabilities and precise positioning due to the high constant closing force."
Kinshofer says it increased the drive system's life by 50 percent over traditional attachment systems and reduced the need for maintenance because it is self-lubricating and "runs in a permanent oil bath."
Changing attachments is quick and easy with the HPXdrive, requiring the loosening of eight retaining bolts, the company says.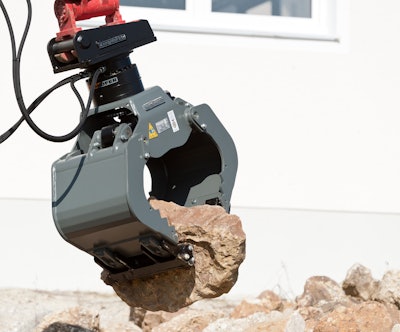 The HPXdrive works with the following Kinshofer attachments: multi-purpose grapple, demolition and sorting grapple, clamshell bucket, timber or rock grapple, NOX-Tiltrotator, and with special attachments like the forceps grapple. It can be used for such applications as construction, loading and unloading, recycling and raw material extraction, the company says.
Kinshofer says it plans to keep expanding the range of attachments for the drive system.