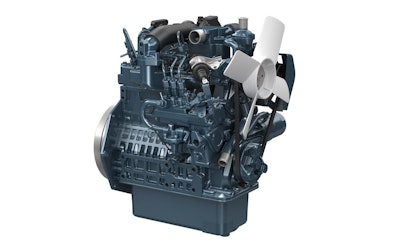 Kubota has introduced its latest engine, the D902-T-E4, saying it "is far lighter and more compact than comparable engines."
Delivering 25 horsepower and 58 lb. ft. of torque, Kubota says the engine is designed for a wide range of applications, including use in landscaping equipment, utility vehicles, and construction equipment like mini excavators and mini track loaders, trenchers and welders.
The 3-cylinder, 0.9-liter engine is turbocharged, has a mechanical fuel injection system, and, thanks to its lower rpms, produces minimal noise.
"The new D902-T-E4 engine has the same engine footprint as the D902-E4, allowing for easy machine integration," says Chris Mottia, Kubota Regional Sales Manager.
The engine complies with Tier 4 Final regulations and does not require an after-treatment device.