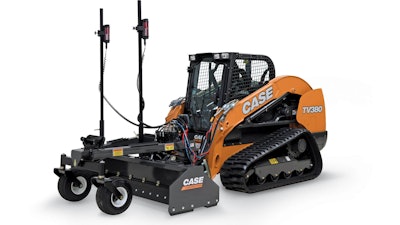 Case Construction Equipment says its new Laser Grading Box for its skid steers and compact track loaders achieves finished grades with 0.1-inch accuracy.
The box is designed for such uses as concrete sub-grade, parking lots and driveways.
The operator sets the laser at the desired grade, and the rotating laser beam is read by the receivers on the mast poles. The control panel then tells the hydraulic valve system to adjust the grading box up or down based on the laser's location in relation to the grade.
The attachment grades both in forward and reverse for increased maneuverability and productivity. The company says the box provides "smooth and accurate performance even in tough environments."
The grading box is compatible with Case Site Control laser receivers, control panel and beacons. It is available in widths of 72, 84 and 96 inches and two different mast configurations: single mast for automated elevation-only, and dual mast for automated elevation and cross-slope.
Other features include powder coat finish, composite greaseless bushings and foam-filled, flat-free tires.