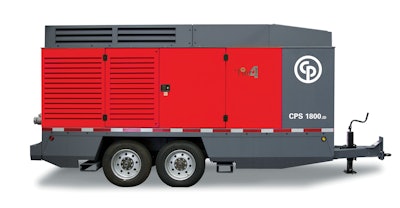 Chicago Pneumatic has introduced its largest portable air compressor, the CPS 1800 JD8 T4F.
The rotary-screw compressor has a 240-gallon tank that enables eight hours of operation at full load. It is powered by a John Deere 525-horsepower, six-cylinder turbocharged diesel engine. The engine is liquid-cooled and can start in temperatures as low as 14 degrees Fahrenheit without the addition of cold-start options.
The engine has a low-fuel shutdown when the tank is 5 percent empty. It also has a fuel-saving function called FuelXpert that reduces fuel consumption up to 10 percent at 75 percent load. The compressor's controller matches air flow to desired operating pressure for increased fuel efficiency.
The compressor operates on one of three settings for actual free air delivery. At 100 pounds per square inch, the actual free air delivery is 1,800 cubic feet per minute. At 150 psi, it is 1,700 cfm, and at 200 psi, delivery is 1,400 cfm.
The canopy is made of galvannealed steel and is designed to reduce noise. Wide service doors on both sides of the compressor provide easy access to service points. The canopy has a powder-coat finish.
Other features of the CPS 1800 include an integrated side-by-side aluminum oil cooler with axial fan, an air and oil separator equipped with a high-pressure sealed and certified safety valve and automatic blow-down valve, a spillage-free containment frame, and a heavy-duty tandem dual axle trailer with 17.5-inch tires.