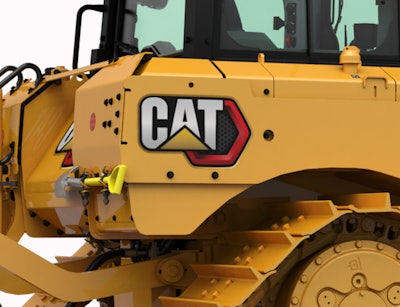 From here on out, new Caterpillar machines are going to look a bit different thanks to a branding redesign the company unveiled today.
Cat's new trade dress marks the latest of many changes the nearly 100-year-old company has made to the way it brands its machines. The updated design, dubbed "Cat Modern Hex," will replace the "Power Edge" trade dress, which placed the "CAT" logo on a black background with a diagonal red bar.
You can see a comparison of the two trade dress designs below.
Modern Hex still prominently features the iconic "CAT" logo, but places it atop a 3D, red hexagon, surrounding a grille pattern. The company says it chose to make the hexagon red as a nod its first logo. That red, wavy "CATERPILLAR" logo was found on the company's first crawler tractors, painted gray and introduced in 1925.
Though the new trade dress design still incorporates the "CAT" logo, it's definitely received some updates. Gone is the simple contrast between the white "CAT" word mark and the yellow, blade-like triangle. Both the word mark and the triangle have been dressed in drop shadows, adding a depth to the overall logo that it didn't have before.
The "CAT" word mark meanwhile has gone from white to nearly silver, giving it a shiny, steel-like quality. This steel treatment has also been given to the machine model number, which now sits separate from the "CAT" logo, and even has its own smaller hexagon/grille.
The new Modern Hex trade dress was designed in-house by Cat's Industrial Design Group, led by product identity manager Ed Stembridge.
"Our goal was to create something with a premium look and feel," Stembridge says. "When you combine the Modern Hex design with our distinctive Cat product designs, it visually reminds customers they are buying and using the best products on the market."
The new trade dress branding will be placed on all new machines starting in the "near future," the company says. This includes heavy equipment, gen sets and engines. It will also be used on Cat parts packaging, and various licensed products such as toys and scale models.
Cat expects the new branding to spread across its whole product line by early 2020.