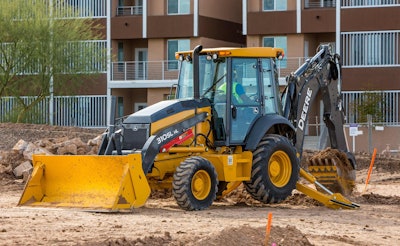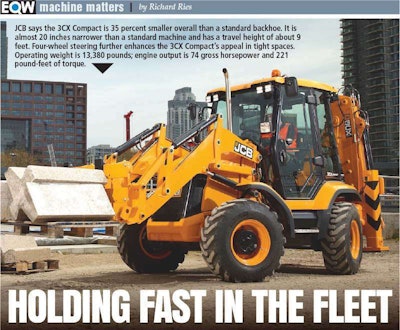 After years of contraction, the backhoe loader market seems to have found a sustainable level. Here's why backhoes still fit on the jobsite:
Backhoes have taken a beating with years of falling sales driving OEMs to limit their offerings. Who stole backhoes' market share? The usual suspects. Skid steer loaders. Compact and smaller mid-size track and wheel loaders and excavators. Where these machines did tasks also done by backhoes, they did them better. It was a burgeoning age of specialization.
But that age of specialization is also what saved backhoes from extinction. They don't do specific tasks as well as the specialists, but they do everything competently. A skid steer is better at scuttling around tight quarters loading trucks and transferring materials, but it can't trench. A crawler excavator is better at excavating, but it can't be driven on the road between jobs at 25 mph. In a sea of specialty equipment, backhoes stand out for their versatility, and this versatility keeps backhoes in fleets.
"Do-it-all machine"
"A backhoe's best attributes are still trenching, excavating and loading, but the point is they can do all three," says Diego Butzke, product manager for backhoe loaders at JCB North America. "And over the years, they've gotten much better with attachments. The backhoe is a do-it-all machine."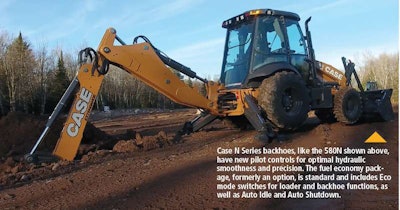 Dustin Adams, product application specialist for Caterpillar, says, "Backhoes excel when the job requires the machine to complete a variety of tasks. Quick couplers afford the ability to turn backhoes into sweepers, compactors, asphalt mills, snow pushes and more, making it even easier for operators to capitalize on the machine's versatile nature."
Because backhoes are so versatile, operators often spend their entire shift in the cab rather than splitting time between machines as, for example, they often do with skid steers and compact excavators. For this reason, manufacturers have made cabs larger, quieter and cleaner with more creature comforts, better ergonomics and more intuitive controls, Adams says. "Operators are spending more time in the seats, but not at the expense of occupational health and safety."
Enhanced versatility can obscure an important fact: current-model backhoe loaders are better at what backhoes have traditionally done most. "Kubota's M62 digs deeper and reaches farther than previous models," says Jeff Jacobsmeyer, the company's product manager for excavators, wheel loaders and backhoes. "The 14-foot dig depth of the M62 is a 17 percent improvement over the previous generation. Similarly, the L47 boasts a 10-foot digging depth and 5,825 pounds of bucket digging force."
At 47.1 gross horsepower for the L47 and 63 gross horsepower for the M62, both machines also have more engine power than their predecessors. A 17.7-gallon fuel tank represents up to 48 percent more capacity, allowing both models to work longer without refueling. An optional hydraulic quick coupler on the front and 540 rpm power takeoff to drive rear attachments enhance versatility at both ends of the machine.
An ideal fit
Butzke says that while worksites often have multiple machines present, there's nearly always a backhoe in the mix. While backhoes may seem to be everywhere, there are certain markets and applications where they are an ideal fit.
Ed Brenton, Case brand marketing manager, says the nature of backhoes makes them especially appealing to utility contractors, municipalities, small contractors and owner-operators. "Backhoes are the right choice whenever you're short on time or help. One machine. One operator. Roadable. And it can do almost any task."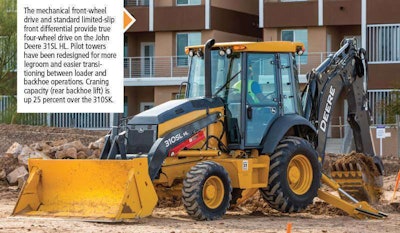 Shawn Kuhn is the public works director for Allegheny Township in Westmoreland County, Pennsylvania. "For the type of work we do, a backhoe is perfect. One example is pipes and inlets. With a backhoe, one machine can dig, push dirt, carry stone and place pipe and inlets. Another is storm cleanup. We can road a backhoe to wherever we have downed trees and other debris, dramatically reducing the time required." A grapple bucket, 4-in-1 bucket, forks and broom for the front of the backhoe loader and a hammer for the back make it the most versatile machine the township owns.
Allegheny Township has two backhoes, a John Deere 310 and 410. They also have a Cat 930H wheel loader, a Champion grader and recently approved the purchase of a Deere 85G excavator. Kuhn says all these machines have their place, but the township will always have at least one backhoe in their fleet. "Big contractors and larger municipalities can afford to have multiple pieces of specialty equipment, but for small to mid-size customers like us, a backhoe is essential because of its versatility."
Butzke says that sometimes backhoes are both general and specific in what they can do. He points to the JCB 3CX Compact as an example. "With a sweeper on the skid steer coupler at the front and a patch planer at the back, the 3CX Compact is the perfect pothole patching machine. It's versatile in that it does everything associated with the task but specific in that it's outfitted for that one particular application."
Easier, faster, cheaper
Having one versatile machine and one operator is more cost-effective than trailering multiple specialty machines to a site and servicing them throughout the job. "Daily checks, refueling and other tasks are all easier and faster with just one machine," says Brenton.
Kuhn notes that storm sewer inlets weigh around 2,000 pounds. "A skid steer with that lifting capacity is going to be $60,000 to $70,000. A backhoe loader is $90,000 but is much more versatile and so has a much higher utilization rate." That makes the backhoe more cost-effective despite the higher initial investment.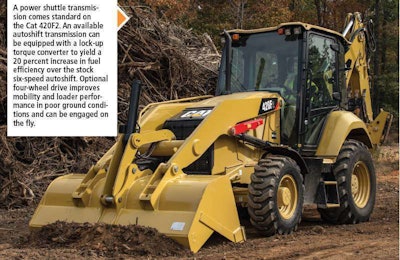 Brenton says Case offers a TCO (total cost of ownership) app where customers can plug in variables of their actual costs of owning and operating a machine. "Idle time and utilization rate are still the big determiners, but other factors play a role." As an example, he says, Case's Eco mode can save 10 to 15 percent in fuel usage.
Brian Hennings, backhoe loader product marketing manager with John Deere, says many customers can calculate their own cost analyses but should make the most of current technology. One example is telematics, which provide exact utilization rates, idle times and more. He says customers should view their dealers as partners in the cost analysis process. "The dealer can also provide guidance on whether to own, lease or rent." Hennings also recommends customers give more consideration to backhoe replacement cycle times, which can be much less distinct than for other types of equipment, such as skid steers.
Adams also emphasizes the role of the dealer and manufacturer as partners with customers. "We [OEMs] need to provide features that add value and then explain the processes and technology behind the advertised benefits. If customers and operators don't have proof or believe in the feature, they will not take advantage of it, thus leaving machine potential and performance on the table."
Advanced technology
"You still see 2007 model backhoes on the jobsite still working well," says Hennings, "but as with all machines, backhoes have seen significant improvements due to advances in electronics, engines and hydraulics." Technology is better integrated, meaning systems work better together. Telematics, such as JDLink, continue to offer more features to improve monitoring, reporting and security. Pilot controls and autoshift transmissions enhance productivity. Hennings says the biggest effect on daily operating costs may be the better fuel efficiency the technological advances achieve.
"Some advances are built-in and require no operator interaction," says Brenton. "Others are user-settable, requiring the use of a switch or setting." He says examples include Eco and Power modes and the timing of auto-idle and auto-shutdown functions.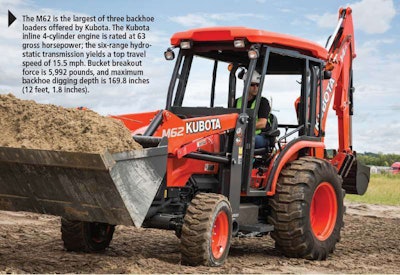 Butzke lists standard features on JCB backhoes. They include Auto-Check, which daily checks things like fluid levels and air filter obstructions; AutoStabilizersUp, which raises the outriggers at the touch of a button; AutoBoomLock to lock and unlock the boom through the joysticks and whether the seat is tipped forward; and AutoDrive, which maintains a constant engine speed while on the road and is disabled when the brakes are applied.
Butzke says the key to deriving the most value from these advances is training, even for experienced operators. "It used to be that operators started on backhoes and then migrated to other equipment. Now they typically start on other equipment and move to backhoes later, often without backhoe-specific training."
Even long-time backhoe operators may have to relearn their habits to obtain the full benefit of new features such as work modes, boost options, automated processes and pressure-compensated, load-sensing hydraulics.
Brenton says training should extend to service personnel, too. He says there have been a lot of changes during the typical backhoe replacement cycle, which tends to be longer than for some other types of equipment. "PM intervals, procedures and fluid requirements have changed in recent years along with operating procedures," he says.
With so many advances and with long replacement cycle times, customers can't always rely on their existing backhoe loaders as foundations for spec'ing new machines. Here again, the dealer has a role, says Adams. "Dealers will help customers buy the right machine. A backhoe with more capability than an application requires leads to trade-offs in performance. Bigger is not always better. Work with the dealer to understand the full value and potential of the machine being considered."