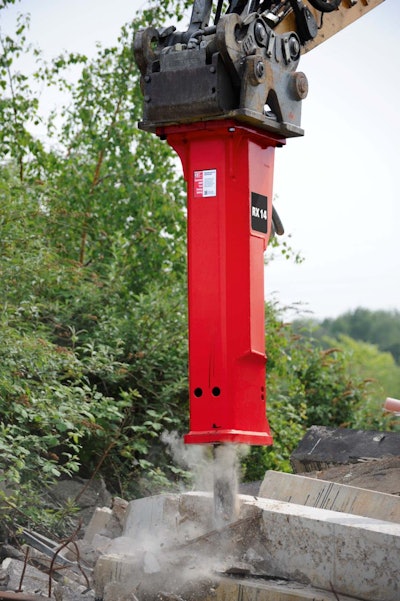 Atlas Copco has announced that its Chicago Pneumatic hydraulic excavator attachments will be re-branded to fall under the new Epiroc product lineup as the company continues the process of splitting its product lineups into two companies.
In December, Epiroc AB LLC began operating as an independent subsidiary of the Atlas Copco Group with a focus on customers in mining, infrastructure and natural resources. The company will continue the development of drill rigs, rock excavation and construction equipment.
The following Chicago Pneumatic attachments will be re-branded under the new Epiroc umbrella:
14 RX breakers for applications including demolition, landscaping, building renovation, road construction, rock excavation and quarrying
6 RC compactors for effectively compacting soil in trenching, ground leveling, embankment construction, driving in and pulling out posts, sheet piling and other formworks
18 CG grapples designed for demolition, rip-rap, construction-and-demolition sort, scrap and waste handling
With the addition of these attachments, Epiroc now offers all of the hydraulic attachments previously marketed under the Atlas Copco and Chicago Pneumatic brand names. The spin-off company's product lineup now includes nearly 100 hydraulic attachments for excavators including hydraulic breakers, combi cutters, concrete busters, pulverizers, multi grapples, compactors, bucket crushers, hydro magnets, steel cutters and drum cutters.
"The biggest change customers will experience is more support," Matt Cadnum, Epiroc vice president for hydraulic attachment tools in the U.S. and Canada, said of the re-branding. "The R&D is the same, and so are the manufacturing facilities. But as Epiroc we're able to offer the support of a group completely dedicated to increasing customer productivity with hydraulic attachments."