Volvo has introduced a major shakeup to its skid steer and compact track loader lineup with the unveiling of three redesigned models in each machine category.
The new machines include the MC110D, MC115D and MC135D skid-steer loaders, and the MCT110D, MCT125D and MCT135D CTLs. Volvo says these new D-Series machines boast more strength, greater capacities and improved operator comfort over their predecessors.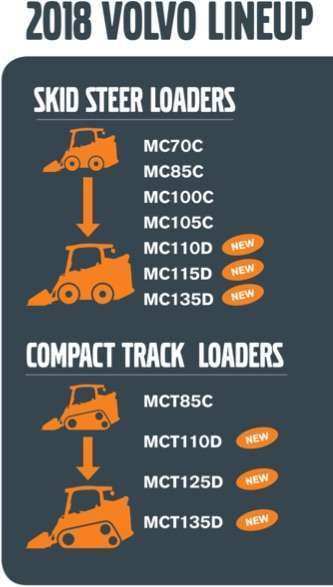 Improved lifting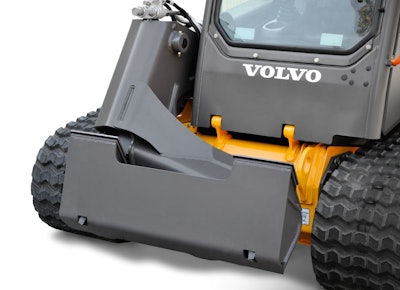 Accounting for that greater strength is a new boom design that provides lifting capacities that are up to 11 percent higher than the previous generation of these loaders.
The new design is a curved single loader arm that is built with 20 percent more steel than conventional models, Volvo says. The company adds that the design is more rigid, allowing more efficient load distribution.
ROCs of the new models and their improvements over their C-Series counterparts are listed below.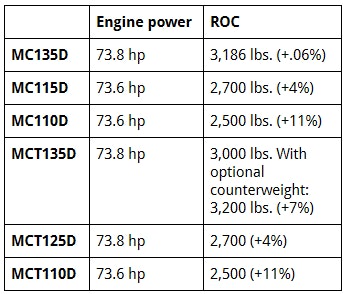 New larger cabs
Volvo says the redesigned cabs on the new D-Series machines are the "largest on the market," with 30 percent more room than standard SSL and CTL models. They feature a wider side-entry door and new handrails for easier and safer entry without the need to step over the attachment. A new cab air vent has reduced the effort needed to close the door as well.
Inside the cab, operators will find an adjustable seat, generous legroom and storage, and will be kept comfortable throughout the workday by a new climate-control system and noise insulation.
The single loader arm design benefits the new models in another way: visibility. The loaders offer an impressive 270 degrees of visibility which Volvo says is 60 percent more than conventional models with a two-arm design.
Serviceability
The attachment bracket on these new machines is fully enclosed, eliminating the need for greasing. The loaders are also equipped with a replaceable reversible wear plate.
Volvo has made access to internal components easier with a forward-tilting cab that can be raised by one person and without the need to raise the loader arm. A large rear door offers access to all service and maintenance points which have been arranged in a simplified layout.