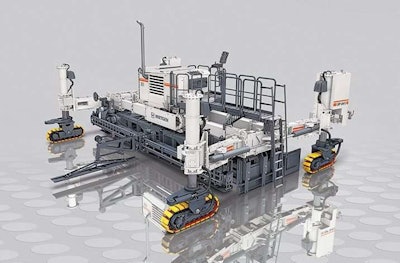 Product experts made a big claim at Wirtgen Technology Days 2018 in Nashville Wednesday. Showing off their newest slipform paver, they said the SP 64i has such quick mobilization features that it could be unloaded and set up for a job in less than 10 minutes. That's a fraction of the time that its competitors require.
The Wirtgen people had practiced for this feat, clocking themselves. And now – using a skit about a contractor needing to move quickly on a job – they had to carry this feat off in front of roughly 1,200 contractors and dealers. The setting was the large outdoor "proving grounds" where the Wirtgen personnel had put into action a fleet of machines, aimed to bring the construction site right to the crowd during live demonstrations.
So as a steady rain fell, the contractors and distributors looked on from bleachers in a grandstand, shielded from the downpour by a big roof, as the challenge began to unfold.
In front of them, Wirtgen personnel stood out in the open rain on the track, drenched as their emcee described the slipform paver's features and benefits.
It's versatile. In a three-track configuration, the SP 64i can pave curbs and gutters, barriers and sidewalks. In its four-track configuration, it can pave out to 25 feet. They say it's already setting new standards in smoothness and has the fastest mobilization time in the industry. That's key because quick unloading and paving start-up can reduce cost while increasing productivity 10 to 15 percent.
The pressure was on. The countdown began. And then the paver was switched from transport to paving mode in only 4 minutes and 41 seconds.
Wirtgen personnel, who beat their personal best, called it a world record.
In a time-lapse video, they showed the crowd four basic steps they took in switching the paver from transport to paving mode.
For this size of paver, it's not uncommon to move 40 or 50 times on large jobs. Setup times for this size of machine can range from one to three hours, depending on attachments, Wirtgen experts say. But thanks to its unique transport design, the SP 64i is touted as doing that in less than 10 minutes with two guys, nothing installed and no lifting equipment.
Good reviews from contractors, dealers
"They did a fantastic job," attendee Brian Duncan, an area manager from Irving Materials Inc. mining operation in Fortville, Indiana, told Equipment World of the demonstrations.
Wirtgen, Vögele, Hamm and Kleeman machines lined the yard and rolled through the proving grounds. Duncan added that he also liked the layout of the exhibits.
He and other customers, from under their rain-slicker hoods or umbrellas, found it a plus to see machines in action, how they work, to touch the final product and also to have access to all the specialists to ask detailed questions.
For preparing the foundation for roads, there were descriptions during the demonstrations of machines for soil stabilization: the SW 16 TC, WR 200 Xli, H20i CP and H13i VI0.
The WR 200 Xli reclaimer, for example, has a Mercedes engine and is Wirtgen's smallest class machine yet still delivers 435 horsepower. It will typically stabilize to a depth of 20 inches and reclaim to a depth of 12 inches – all at a width of 94 inches, Mark Stahl, recycling product manager for Wirtgen America, told the crowd.
In this machine, he says, "the variable mixing chamber increases the mixing volume relative to the working depth to ensure a homogenous mix at all times .If mixing water is required, this can be injected into the mixing chamber at the rate of either 210 gallons a minute or 470 gallons a minute, depending on the pump configuration."
The Hamm 20-ton H 20i C sheepsfoot (padfoot) was among those rollers shown. It has a faster, taller and wider dimension blade to help move heavy dirt around and other applications. Now featured with it is the Easy Drive platform, which spins the seat so the operator is always working in the forward position. This machine is in the H series that offers eight different weight classes from 10 to 25 tons for a variety of applications.
For non-contact, continuous paving with simple operation, the Vögele MT 3000-2i offset power feeder, which can move 1,200 tons of asphalt material per hour through the machine, was demonstrated, too. It uses two endless rubber conveyor belts to consistently move the material into the paver. The belts are self-cleaning. By handling the mix less, the chances of mechanical segregation are reduced.
With a push of a button, Vögele automates the distance control, material management and remixing with the MT 3000-2i and paver.
Hydraulically driven housing shifts to work flush on either side
Among other highlights was the W200Hi cold milling machine, which has been previously introduced but now was shown with hydraulically driven housing. Attendees watched as an operator used it to shift the entire housing left and right, demonstrating how you could work flush on either side and enjoy maximum flexibility.
And in the past, where it could take a day to change a drum, now it can be accomplished in less than three hours, thanks to the flexible cutter system that Wirtgen also showed.
There were an array of machines for rock processing and crushing. And later in the day, there was another demonstration with a fleet of machines used for road rehabilitation.
The asphalt milling machines also now feature the new Level Pro leveling system, which can help keep the milled surface at the selected depth – even when ground is uneven. With a modular design and user-friendly setup, the system has been exclusively developed for Wirtgen machines.
Center doubles in size for training, technology
The dealers and contractors also toured the gleaming Center for Training and Technology that's been recently doubled in size to nearly 40,000 square feet.
The center for now features smaller classrooms with plenty of hands-on displays and visuals. Wirtgen officials say the center can now be used to well more than 4,000 people a year, compared to 1,800 on average before the expansion.
Technologies on display include the 3D control system Niveltronic Plus, which builds on many years of grade and slope technology control technology. Another display shows how the Vacuum Cutting System (VCS) works to reduce the amount of airborne particles producing during the milling process.
Oscillation has long been a Hamm mainstay
Oscillation, now billed as a new development by some manufacturers, has been a mainstay of Hamm technology for 35 years, Matt Graves, Wirtgen director of marketing communications, told editors. The innovative approach to compaction lowers vibration stress while reaching optimal compaction quality. A display in the newly expanded center shows how and why the oscillation works.
"It's really kind of interesting because now the patent's up. A lot of our competitors are putting oscillation on their machines, and they're marketing it as the latest and greatest thing," he says with a laugh.
Hamm bills it as an innovative approach to compaction that significantly lowers vibration stress on the environment while reaching optimal compaction quality.
Wirtgen W 150 CFi heads class of small milling machines
With 400 horsepower, the W 150 CFi is the most powerful cold milling machine in the compact class, Wirtgen says. This front-loader is the ideal machine for large construction sites with confined space, such as downtown areas. These are the kind of places where the advanced visibility concept, when used with the live video camera system, provide critical assistance to the operator when he or she is maneuvering the machine.
For maximum traction of the crawler tracks, Wirtgen has adopted the central cutting drum design from its large milling machines. To efficiently transfer the tremendous power of the W 150 CFi to the road, this model also has an Intelligent Speed Control (ISC) traction control system, which makes sure on demanding milling jobs that all four crawler tracks run at constant speed and high traction to achieve maximum milling performance.
With an operating weight of 45,856 pounds, the W 150 CFi can be transported without a special heavy transport permit in most cases, another major advantage for contractors seeking productivity and profitability in milling operations.
Innovative technologies: thermal cameras can improve quality control
Attendees at Technology Days took advantage of educational "micro-sessions" that each lasted 45 minutes or less.
They included one on the HCQ Navigator for planning, measuring, controlling, documenting and analyzing compaction. The acronym stands for Hamm Compaction Quality. It can be used not only in earthworks but for homogenous, high-quality asphalt compaction. This module enables all the machines on a paving train to communicate with one another.
Another display in the new center showed how and why a new thermal camera technology called RoadScan is used, and a micro-session covered the same topic. RoadScan is a temperature sensor that sits on the back of the paver and keeps track of the temperature of asphalt as it's coming out of the paver, says Graves.
"This can also be hooked up to a system that records the temperature of the asphalt, so if there's ever a question from the state or whomever as to how hot was the asphalt when it was coming out, when did you get on it? This also allows for the roller operators to get on the asphalt at its optimum temperature," Graves explains.
Thermal cameras are now mandated in job specifications in 14 states, including Minnesota, and are being used in Europe, too.
Various manufactures are coming out with their versions of this intelligent paving technology, with the cost averaging $35,000 to $45,000 for contractors. It can help them improve quality control and make their businesses better, according to Laikram "Nars" Narsingh, a commercial support and developmental manager for Vögele.
RoadScan is expected to be available on the U.S. market sometime this year, he says.
"We have it, but we don't have the data interfaces yet," he tells Equipment World.
He presented a micro-session on this technology, addressing how making quality measurable is one big issue for contractors and clients worldwide. It's a way for operators to check on quality control during a project, fixing problems at the time rather than later, when there is a failure and a flaw is detected in the earlier work, according to Narsingh.
One of the key criteria for the durability of roads is maintaining a constant temperature of freshly paved asphalt. Narsingh says RoadScan can help measure those temperatures, without contact, so operators spot issues that need to be remedied. They can see inconsistencies in the paving that could lead to future problems in the pavement by looking at data on a screen during the paving process.
A darker spot, for example, on the screen could indicate a thermal streak – a cold spot that comes from segregated material rather than homogenous material. That could mean potentially that there are more large stones than fines, which better retain the heat, Narsingh explains. An operator can make a minor adjustment and cover the flaw. The camera will record that, using coordinates so that in the future it can be reviewed.
"It will help them, during the day of paving, if they pay attention to the data and say, 'Hey, wait a minute; something is wrong.' So rather than paving a mile, they may pave 150 feet and stop and fix their process," Narsingh says.