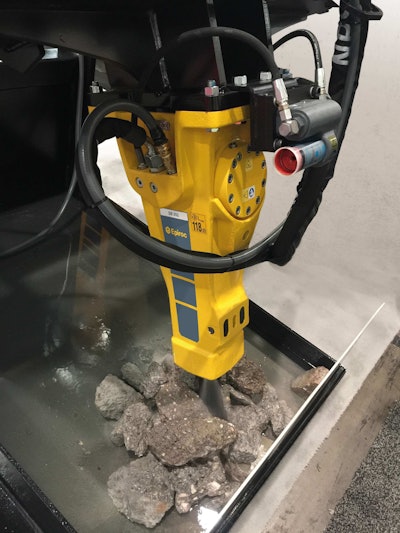 In an effort to help the construction industry meet OSHA's silica-dust reduction regulations, Epiroc has added a dust suppression system to its new line of hydraulic breaker attachments.
Epiroc, a subsidiary of Atlas Copco that is being spun off into its own company, has added an internal water port as standard on the SB Series of breakers. The system sprays water during breaker operations to reduce the amount of dust that enters the air. The company says the breakers are the first in the industry to offer the water system as standard equipment.
Along with reducing the dust that enters workers' lungs, the system is designed to improve operator visibility and keep dust out of the bushings.
The company says it also designed the breakers to reduce noise and vibration through its EnergyRecovery technology. EnergyRecovery absorbs recoil energy, giving the breaker a higher impact rate from the same hydraulic input with less vibration, the company says. It also says it gave the breakers a slim, compact design to improve operator visibility and to make them easier to operate.
The breakers are compatible with compact excavators, backhoes, skid steers and demolition robots in the .7- to 24-ton carrier class. They are designed for demolition, renovation work, construction projects, tunneling, dredging and pile-driving, and also provide mining and quarrying applications, such as selective rock breaking.
They range in service weights from the SB52 at 120 pounds to the SB1102 at 2,350 pounds. Oil requirements range from 3.2 gallons per minute at 1,450 to 2,175 pounds per square inch to 35 gpm at 1,185 to 2,610 psi.
The SB breakers come ready to handle compressed air supplies with no need for additional modifications. The company added side-positioned ports to protect hoses and give easy access to compressor and water connections or the company's ContiLube II Micro lubrication supply lines. ContiLube II and ContiLube II Micro are options for the breakers and are designed to deliver the proper amount of grease to the breakers as needed to prevent manual greasing.
To make maintenance easier, Epiroc designed the breakers with its SolidBody concept that integrates the impact mechanism and the guide system into one piece. The company says this eliminates the weakest components of traditional breakers: damping and guiding elements, tie rods, parting lines and stud bolts. The accumulator is cast into the body, which also reduces the number of breaker parts, overall weight and maintenance. The breakers do not require special tools or adaptor fittings for service.
The breakers feature dual tool retainer pins to improve tool load distribution, reduce grinding and protect against accidental damage to the tool and breaker. They also include such standard features as an integrated pressure relief valve for overload protection, Auto Start, an air inlet for underwater tasks, an oil drainage plug, dust wiper, slip fit bushing and dual tool retainer bars.