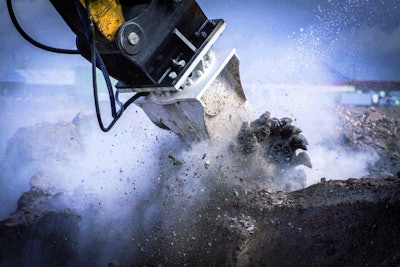 Epiroc says its new ER 1500 Drum Cutter for excavators is ideal for tunneling, special foundation work, demolition and soil mixing.
It also comes with a dust-suppression system designed to meet OSHA silica dust-reduction regulations that took effect in September. The system uses water jets to spray the working area to prevent dust from entering the air.
The transverse drum cutter is designed for excavators weighing 20 to 40 tons. It produces 160 horsepower and a cutting force of 9,100 to 15,700 pound-feet at 5,000 pounds per square inch.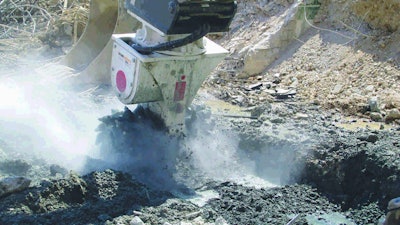 The cutting head is 35 inches wide and features 44 tungsten carbide-tipped picks. The company says the attachment provides each pick with maximum cutting power at the recommended rotation speed of 75 rpm. Epiroc designed the cutter's gear housing to be rigid and wear-resistant and added hardened wear sleeves to the pick boxes, the company says.
The cutter can rotate 360 degrees without having to be disconnected from the excavator. A high-torque hydraulic motor drives the large spur gears. It operates quietly with low vibration and can be used in sensitive areas, the company says.
Epiroc is a subsidiary of Atlas Copco and will officially split into its own company, pending Atlas Copco shareholder approval expected in April. Epiroc focuses on mining, infrastructure and natural resources, while Atlas Copco will focus on industrial customers.