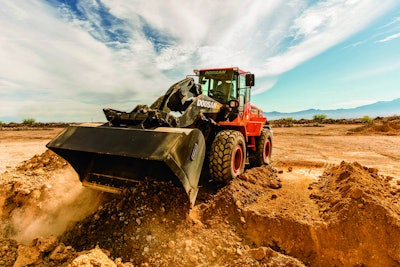 Attendees of the recent World of Concrete show got a sneak peek at Doosan's new 172-gross-horsepower, 3.7-cubic-yard DL280-5 wheel loader.
The new loader fits between the company's DL250-5 and DL300-5 loaders. "The DL280-5 is a model line extension for us," says Aaron Kleingartner, Doosan Infracore North America marketing manager. "It fits a gap that was created over time between model sizing and engine development."
Aimed at two primary markets – general construction and scrap handling – the 34,262-pound loader features a wide fin radiator, which uses larger fin spacing for more effective cooling and less clogging. "This is especially good for heavy duty applications that have a lot of trash and debris," Kleingartner says.
The machine also is the first Doosan loader to use its upgraded forward-neutral-reverse joystick. "The forward-reverse-functionality on the joystick is more intuitive and allows operators to be more productive," Kleingartner explains. "Operators don't have move their hand off the steering wheel in order to change directions. They can keep one hand on the wheel and one hand on the joystick."
For scrap handling and waste recycling operations, Doosan is selling the DL280-5 with a kit that includes a heavy duty axle and a guarding package. In addition, starting in 2018, Doosan loaders will have rear view cameras standard, making the machines compliant with European visibility regulations.
Doosan DL280-5 Quick Specs
Engine: 172-gross-hp. Doosan
Operating weight: 34,262 lb.
Bucket capacity: 3.7 cu. yd.
Dump height: 9 ft. 2 in.
Breakout force: 30,349 lb.-ft.