A variety of landscaping attachments are designed to turn your skid steer, excavator and other equipment into lean, mean brush-clearing machines. They can also grind stumps, drive posts and perform other tasks.
---
Stump chips stay in the hole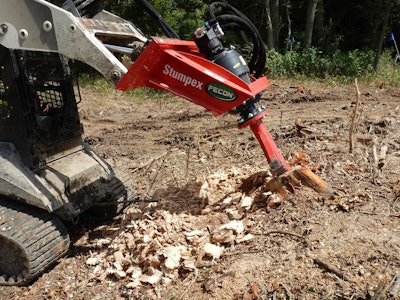 Fecon's Stumpex stump grinder works on skid steers with as little as 20 gallons per minute of hydraulic output. It can handle any stump that is 10 to 28 inches in diameter and down to 20 inches deep in a single pass, the company says. When grinding, the chips stay in the hole because of the Stumpex's threaded cone and staggered AR500 cutting blades. That makes cleanup easier and faster, the company says. It weighs 1,500 pounds and produces up to 33,600 foot-pounds of torque at 4,000 pounds per square inch or pressure.
---
Drilling fast in soft or moderate soil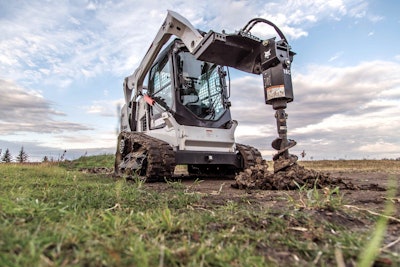 The Bobcat 15C direct-drive auger is designed to drill holes fast in softer to moderate soil conditions, such as sand, dry material and light dirt, and leave the hole cleaned out. It has a combination output shaft that allows for both hex and round bits. It is 10.6 inches wide and 37 inches long and can dig down to 62 inches without an extension. It can be used with certain Bobcat compact track and skid-steer loaders, excavators, Toolcat utility work machines and the V519 telescopic tool carrier.
---
Quickly moves and plants trees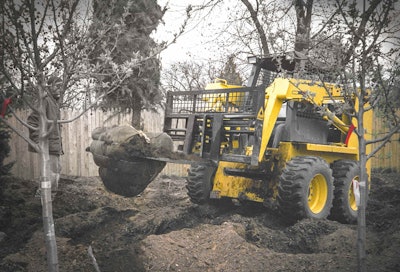 Dymax says its pallet forks with hydraulically adjustable tines are designed to quickly handle, place and plant wrapped trees, while also handling pallets in and around nursery grounds. The tines, which are available in lengths of 48 to 60 inches, are mounted to a 52-inch-wide fork carriage. The tines are easily adjusted by two hydraulic cylinders, the company says. The pallet forks attach to skid steers and compact wheel loaders.
---
More aggressive rotor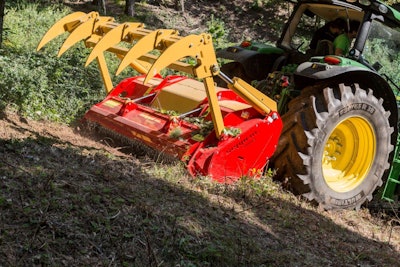 The Starforst forestry mulching machine from Seppi M. has been redesigned with widths of 82.6, 92.5 and 102.4 inches. The mulchers are equipped with a new Mono Tip V-Lock rotor that has a single tooth in every carbide. The rotor is more efficient on logs and thick wood, reduces wear, improves balance and makes tool changes easier, the company says. The V-Lock is designed to provide a firmer attachment. Hardox anti-wear plates have been placed inside the casing.
---
Raking soil for seeding
The Edge Auto Rake is designed for grooming and finishing soil for seeding. It can also remove rocks from ¾-inch up to 6 inches in diameter. The auto rake comes in widths of 66 and 76 inches. It is compatible with Gehl and Mustang radial and vertical skid loaders, track loaders and articulated loaders. The AR66 model weighs 1,092 pounds and has a capacity of 13 cubic feet; the AR76 weighs 1,200 pounds and has a capacity of 15 cubic feet.
---
Max seed-to-soil contact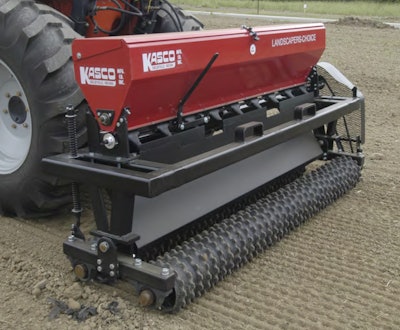 The Landscapers' Choice primary seeder from Kasco Manufacturing uses "Walking Beam" axle technology to follow the contours of the terrain for maximum seed-to-soil contact, the company says. The seed chute is designed to spread seed evenly across the width of the machine. The seeder is available in 5-foot and 6-foot widths. Its front row of cast-iron press wheels levels the dirt to prepare it for seed, and its back row gives a final manicured grade.
---
Power rake for construction sites
Worksaver's Power Landscape Rakes attach to compact skid steers and skid steer loaders to pulverize and set grade on construction sites. They are also designed to remove debris or sod for creating new lawns or sprucing up existing ones. They feature flip-up end plates, flip-up gauge wheels and a material control bar. Buyers can choose carbide teeth or Sabre teeth. The bearing housings and triple seal bearings are replaceable.
---
Clearing brush, small trees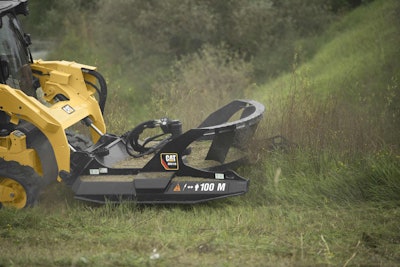 Caterpillar's Industrial Brushcutter is designed to attach to skid steer loaders, compact track loaders, Cat Multi Terrain loaders and compact wheel loaders fitted with a universal coupler. Its functions include land clearing, right-of-way maintenance and site prep. It has a 72-inch cutting width and handles material, such as brush, small trees and vegetation, up to 8 inches in diameter. The hydraulic motor and gearbox sustain operations in hot weather, and an anti-cavitation valve and accumulator provide consistent fluid flow to protect the motor, the company says.
---
Greater visibility, capacity, durability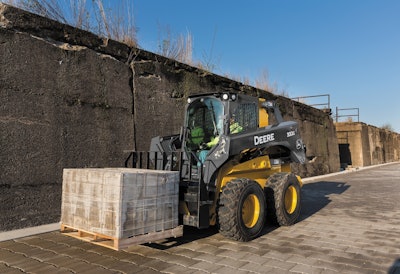 John Deere's PF45 and PF60 severe-duty pallet forks for skid steers, compact wheel loaders and compact track loaders offer improved visibility, increased capacity and better durability than previous designs, the company says. They are available with lengths of 48 and 60 inches and can be positioned in widths from 45 inches in 5-inch increments to 60 inches in 5.35-inch increments. They feature a skid-resistant steps on both sides of the pallet fork frame make it easier to enter and exit the vehicle, the company says.
---
See the leading edge
Berlon Industries' Low Profile Series buckets for compact skid steers are designed with an extended lip allowing the operator to see the bucket's leading edge and providing greater capacity. They also have a longer floor. They come in widths of 36, 42 and 48 inches. Bucket options include smooth edge, weld-on teeth or bolt-on tooth bar. The company says the buckets are ideal for light construction and landscaping applications.
---
Skid-steer 'hookup' for excavators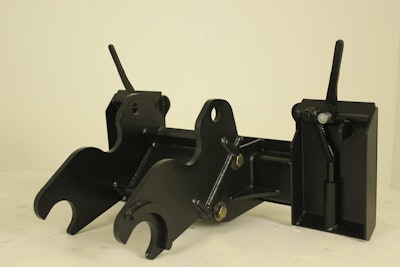 The Hookup by Construction Attachments is a universal skid steer adapter for excavators up to 20,000 pounds. The adapter allows excavators to use such landscaping attachments as general purpose buckets, root rakes, skeleton buckets, stump buckets, pallet forks, bale spears, boom poles and tree booms. The Hookup weighs 252 pounds and is made from ASTM A36 structural steel. It incorporates the standard two-pin universal skid steer latching system. The pins are flame hardened and have greasable zerk fittings, the company says.
---
Ideal for cutting fields, parks, roadsides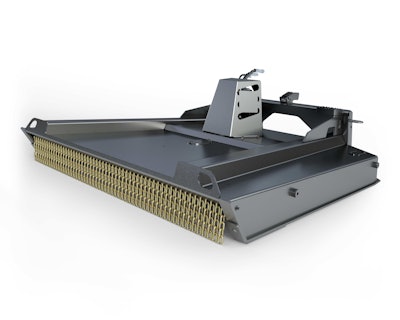 Volvo says its brush cutter is ideal for clearing underbrush, tall grasses and small trees up to 4 inches in diameter. It can be used in large fields, public parks and on roadsides. The blade indicator alerts the operator and bystanders when the blade is moving. It is compatible with the company's compact track and skid steer loaders, including the MC110C, MC115C, MC135C, MCT110C, MCT125C, MCT135C and MCT85C.
---
One bucket, four uses
Case Construction Equipment's 4-in-1 bucket performs as a traditional bucket and can be adjusted to be a clam, dozer or scraper. It attaches to skid steers, compact track loaders, wheel loaders and backhoe loaders. The hydraulically actuated bucket is operated from the cab with fingertip controls. It comes in various widths from 66 to 93 inches, with capacities ranging from 14.2 cubic feet to 1.2 cubic yards.
---
Drive 6-inch post in under 20 seconds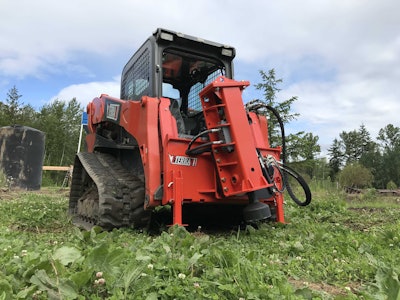 Eterra's PDX-750 Breaker Style Post Driver works on backhoe loaders, skid steers and excavators and replaces the PD-750 driver. The company says the PDX-750 can drive a 6-inch post into the ground in less than 20 seconds. It delivers more than 750 foot-pounds per blow and can handle large railway ties. The company offers a variety of post guide housings and driver heads for the attachment, as well as a 5-foot breaker spike for hard ground or rock.
---
Delivering 6-inch cutting capacity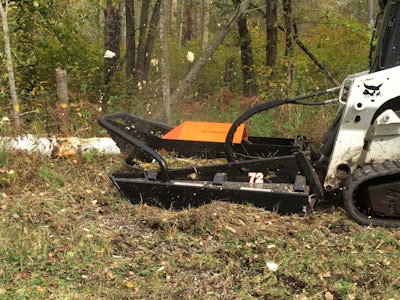 Skid Pro's X4 series of Industrial Brush Cutters come in open-front and closed-front models. The attachment's 480-pound flywheel has four blades delivering a 6-inch cutting capacity at standard flow. It is also available in a high-flow option. The drive shaft is 3-¾ inches in diameter, which the company says is in the top of its class. The "extra tall" 10-inch deck and raised back provide better discharge and improve cutting in thick grass, the company says. It features a front push bar and integrated bumper for pushing down and cutting large saplings.