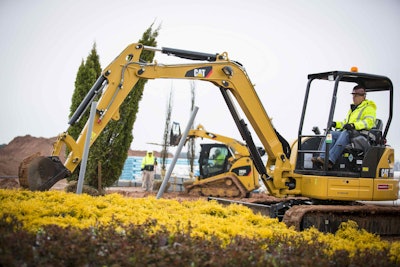 Compact excavators are already immensely popular because they lift, dig, trench, load and backfill. They run a wide range of
attachments. They do all this in tight quarters and can be trailered from one job to the next with a pickup truck. How to improve upon such capable machines? Find ways for them to do more and do it all better.
Overall design
Zero tailswing was all the rage several years ago; it enhanced the ability of compact excavators to work in the tight, confined spaces typical for these machines. But zero tailswing has trade-offs, notably reduced lift capacity. So, reduced tailswing crept into the market. Now there's a full range of machines designed to accommodate all of the applications in which compact excavators work.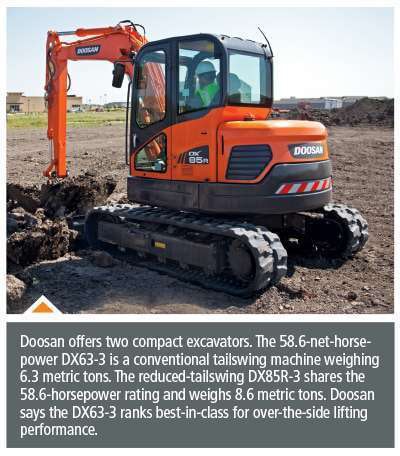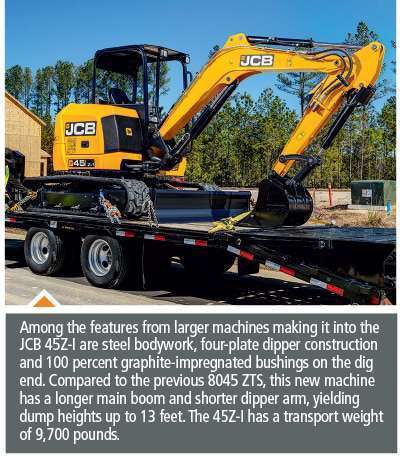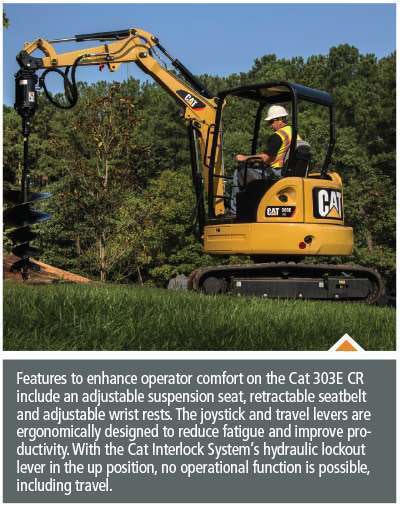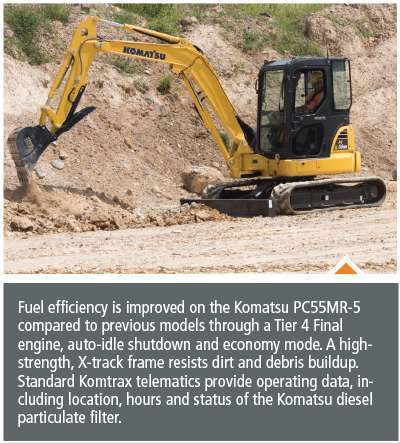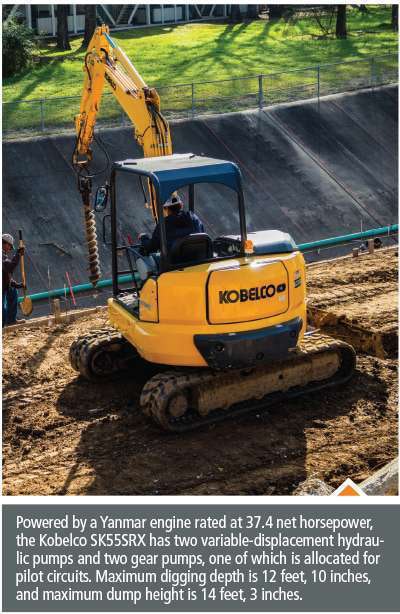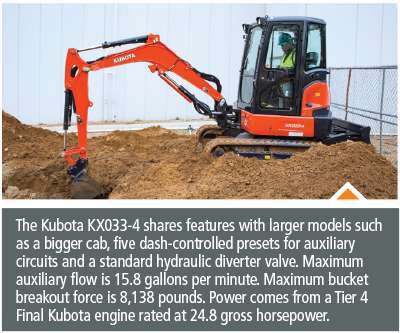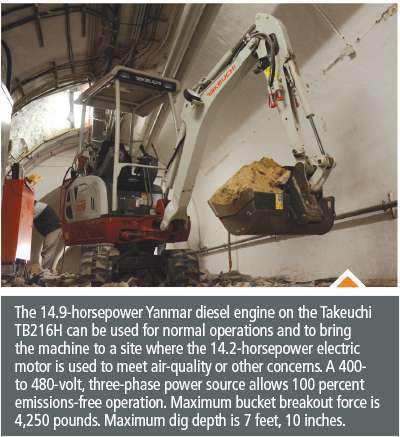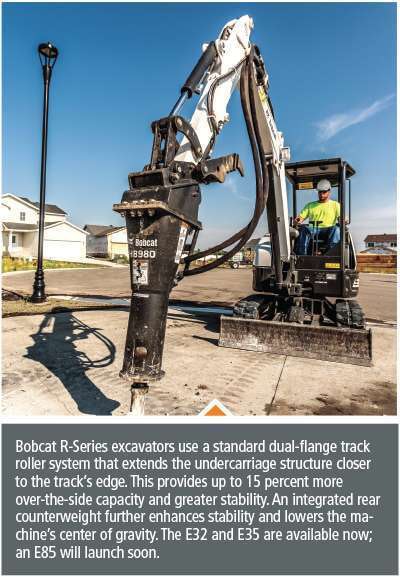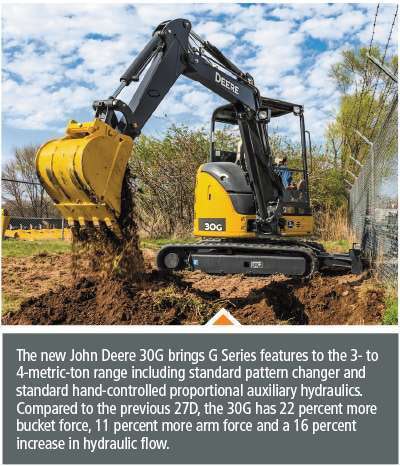 "Our C Series mini excavators are available in zero tailswing, short-radius or conventional configurations," says Ed Brenton, Case Construction Equipment brand marketing manager. "There is also a long-arm option that includes a counterweight." Brenton says this allows operators to do more work without having to reposition the machine. Adjustable booms allow offset digging, helpful when working next to buildings or other obstacles, and Case C Series models all have adjustable booms.
Case's smallest model, the CX17C, sports another popular feature, a variable-width undercarriage (3 feet, 3 inches retracted; 4 feet, 3 inches extended) and adjustable blade. This allows the machine to fit through a standard 48-inch gate while providing maximum stability once in position. Landscapers and others working in developed environments place priority on this feature.
Dave Young, excavator product marketing manager with John Deere and Hitachi, notes that the new Hitachi ZX30 and Deere 30G compact excavators have the same undercarriages as their bigger siblings, the ZX35 and 35G, respectively. One obvious benefit is a reduction in production costs, but the choice also provides greater stability to the new models. Despite the beefier undercarriage, the new models weigh only 7,200 pounds when equipped with cabs and rubber tracks, so they can be trailered with a three-quarter-ton pickup.
All compact excavators have engines of less than 75 horsepower. Although engines below 75 horsepower have simpler emissions control systems than those of higher output, they're still not one size fits all, says Andrew Earing, utility line excavator product manager with Komatsu. The company's PC30MR-5 and PC35MR-5 rely on cooled exhaust gas recirculation (CEGR). The PC45MR-5 and PC55MR-5 have CEGR plus a small Komatsu diesel oxidative catalyst. The PC78US-10 and PC88MR-10 use those elements and a variable turbocharger. "The means of compliance changes to reflect the differences in fuel consumption," says Earing.
Earing says Komatsu offers three track types. The traditional rubber belt track is good for general excavation and landscaping. A hard rubber road track is available for urban and other developed environments to minimize damage to finished surfaces. And steel grousers are available for rocky conditions. A two-way blade is standard on all six models, while a four-way blade is optional.
Operator comfort
Tom Connor, excavator product specialist with Bobcat, says cab size suffered when zero- and reduced-tailswing became driving forces in compact excavators. The industry is working to bring back roomier cabs. Even an inch matters, he says, especially with such details as foot room and joystick placement. With the larger cab, Bobcat has been able to use the same seat in compact excavators as in their skid steer and compact track loaders to increase operator comfort.
Connor says the simpler emissions hardware of sub-75-horsepower engines takes up less space, making it easier to include larger cabs than if a selective catalytic reduction (SCR) system were in place. Another space-saving design in Bobcat compact excavators are the hydraulic reservoirs, which are one-third the size of those on most competitors' machines, according to Connor. Where large reservoirs are often used to help control oil temperature, "there's no need for a surplus of oil with Bobcat's high-performance cooling packages," he says.
Noise reduction is another component of operator comfort. One method of reducing noise is to create a quiet cab. Another is to reduce noise emitted from the source. Kobelco compact excavators from the SK17SR to the SK55SR feature the company's Integrated Noise and Dust Reduction Cooling System (iNDr). The system uses a tightly sealed engine compartment, offset ducts and a muffler designed to slow and disperse exhaust for quieter operation.
Hydraulics
Hydraulic systems and the electronics that control them have become far more efficient and powerful in recent years. Load-sensing hydraulics is one such example. Machine electronics allocate hydraulic resources based on the task being performed. Complementing the load-sensing hydraulics on many machines is an advanced hydraulic regeneration circuit. With regeneration, oil from the rod side is retained in the circuit rather than routed back to the tank as the cylinder is extended. "Load-sensing hydraulics combined with regeneration provide speed, precision and power to improve cycle time and productivity," says Jeff Jacobsmeyer, Kubota product manager for excavators, wheel loaders and backhoe loaders.
Volvo also uses regeneration. John Comrie, product manager for compact excavators and compact wheel loaders, says it and other sophisticated hydraulic design strategies allowed the company to retain hydraulic performance, even on machines with horsepower dropped from 34 to 25 for emissions compliance. "Breakout and lift are equal to or greater than predecessor machines," he says. Load-sensing piston pumps and proportional auxiliary hydraulics also maximize hydraulic performance and control, allowing operators to do fine work even with the bucket.
Multiple pumps were once common; a machine could have three or more. While some compact excavators still run multiple pumps – Takeuchi has four in most models – there's a move toward single pumps. Improved pump performance and sophisticated flow control make this possible.
"Customers sometimes ask if there's a loss of performance with single pumps," says Connor, "especially with high-demand attachments such as flail mowers, which are becoming increasingly popular." Connor says the concerns are unwarranted, that modern single-pump systems, paired with appropriate main control valves, can outperform older multi-pump systems even in high-demand applications.
Hyundai has nine models of 9A Series compact excavators. The newest, the R30Z-9AK, has a list of more than a dozen improvements to its hydraulic system. Some, such as switchable control patterns (excavator/ISO and backhoe/SAE) are industry standards. Some enhance the operator experience, such as a circuit damper on the travel pedal to reduce shock load when starting and stopping in either forward or reverse. There's also a selector valve to choose single- or double-acting operation of the auxiliary circuit. At least one feature simplifies maintenance; the swing motor is lubricated entirely by hydraulic oil, allowing the motor to be serviced when the hydraulic system is serviced.
Controlling flow and pressure and the ability to choose between one- and two-way flow make it easier to match attachments to a machine and to receive peak performance from those attachments. But resetting the variables every time there's an attachment change is time-consuming, so manufacturers offer programmable settings that can be matched to an attachment and stored in memory. Kubota, for example, offers the ability to program and store information for up to five attachments. Both the programming and the selection from among the stored settings are done through the in-cab monitor.
A hammer circuit and selectable two-way hydraulics are standard on all six new models of compact excavators from New Holland. In addition, the largest models, the E57C and E60C, feature separate circuits with optional second auxiliary two-way circuits and an optional hydraulic quick-attach provision. The six models represent a doubling of the number of compact excavators offered by New Holland.
Trickle down
Technology is expensive at first but costs typically drop rapidly. New technology shows up first on larger equipment where its high initial cost is a small percentage of the total cost of the machine. As costs come down, these features can migrate to smaller, lower-priced machines.
For example, Komatsu full-size excavators used common-rail injection first, while their compact excavators stayed with less-expensive unit injectors. As common rail systems and their electronic control modules came down in price, Komatsu added them to smaller excavators. Common rail provides cooler fuel and more precise injection control. This helps meet Tier 4 Final emissions requirements but also maximizes engine performance and reduces fuel consumption.
The HiMATE remote management system (telematics) was first available only on Hyundai full-size HX crawler and HW wheeled excavators and HL900 Series wheel loaders. It has now been brought in as standard equipment on three of the company's compact excavators, the R55-9A, R60CR-9A and R80CR-9A, as well as the R55W-9A compact wheeled excavator. Hyundai provides five years' free use of HiMATE in its cellular configuration. Satellite connectivity is available with the purchase of additional equipment and a subscription. HiMATE can monitor a specific machine or any combination of multiple Hyundai wheel loaders and excavators.
Some technology trickles down from other industries. The TB216H from Takeuchi is a dual-power machine with a 14.9-horsepower Tier 4 Final diesel engine and a 14.2-horsepower electric motor. The power sources feature separate pump groups, so performance is the same in either diesel or electric mode. Operational controls are also the same for each. The TB216H is well-suited for jobs with accessibility, noise or air-quality concerns. Examples include plumbing, landscaping and interior demolition.
Wacker Neuson offers the 803 compact excavator as a conventional diesel machine or as a dual-power machine with a separate plug-and-play electro-hydraulic unit. Performance is comparable with either power source: maximum 5.3 gallons per minute and 2,466 pounds per square inch for working and drive circuits with the diesel engine; 5.2 gpm and 2,756 psi with the HPU8 electro-hydraulic unit. The HPU8 has a three-phase, 480-volt, 16-amp motor. Two openings are inset on the dozer blade of the 803 for carrying the HPU8. There's also a lift eye on top of the unit and four tie-down lugs for safer transport.
In May, Volvo unveiled the EX2 fully electric prototype compact excavator. The traditional diesel engine is replaced with two lithium-ion batteries totaling 38 kilowatts. Hydraulic cylinders are replaced with electromechanical linear actuators. "At this stage, the EX2 is purely a research project, and there are currently no plans for industrialization (production)," says Volvo.
Attachments
Compact excavators are as much tool carriers as excavators, so most are available with two-way auxiliary hydraulics, which are required for common attachments such as thumbs and grapples. With the arrival of modern hydraulics, the catalog of attachments has grown significantly.
Young says Deere and Hitachi will soon launch three plate compactors. The PC-4 will go on the 26, 30 and 35 models; the PC-7 on the 50 and 60, and the PC-10 on the 60 only. All pre-production work has been completed, but production had not started as of press time.
To maximize flexibility with attachments, Doosan offers both hydraulic and wedge-lock couplers on their two compact excavators, the conventional-tailswing DX63-3 and the reduced-tailswing DX85R-3. A power tilting coupler is also available for the DX63-3. A roller switch on the right-hand joystick adjusts auxiliary hydraulic flow. Blade float is standard on both models so operators can smoothly back-drag an area.