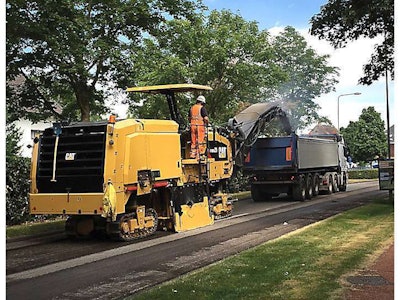 The U.S. International Trade Commission (ITC) on Wednesday said it will investigate allegations by Caterpillar that German manufacturers Wirtgen GmbH and Joseph Vögele AG violated patent laws.
The probe is based on a complaint filed by Cat on October 26, a complaint that is nearly identical to one filed to the ITC by Wirtgen against Cat in July. The products at issue in the investigation are road construction machines, including road milling and road paving machines.
All sides are prepared for battle over alleged patent infringements.
Now, in their complaint filed October 26, Peoria-based Caterpillar, Inc. and Caterpillar Paving Products, Inc., of Minneapolis allege that the German manufacturers violated the Tariff Act of 1930 by importing into the United States and selling certain road construction machines that infringe patents held by Caterpillar.
The act prohibits unfair acts and unfair methods of competition involving imports. It provides that the importation or sale of infringing goods in the United States is unlawful.
Caterpillar is requesting that the commission issue a limited exclusion order and a cease and desist order. The International Trade Commission has the authority to issue exclusion orders banning imports of articles that infringe patents after importation.
Named are Wirtgen GmbH and Wirtgen Group Holding GmbH of Windhagen, Germany, Wirtgen America, Inc., of Antioch, Tennessee, as well as Joseph Vögele AG, of Ludwigshafen, Germany.
By instigating this investigation, the commission said in a news release, it has not decided any merits of the case.
Wirtgen previously accused Cat of patent infringement
Beyond the two companies trading patent infringement accusations, there is an added dimension to this legal battle. Wirtgen was acquired by John Deere earlier this year. That $5.2 billion deal makes Deere a much larger threat to Cat's business as it will make Deere & Company the first manufacturer to have crushing and screening, as well as mobile equipment, all under one company. In a statement to Equipment World back in August, a Deere spokesman said that Deere did "not have any insight into" Wirtgen's claims and that "Wirtgen is handling" the situation on their own.
After the examination of the patent infringement complaint filed by the American arm of German road equipment manufacturer Wirtgen, members of the USITC had voted to investigate certain Caterpillar road milling machines and their components.
"The products at issue in the investigation are used to mill asphalt and concrete pavement to create an even base for the construction of a new surface," a USITC release states.
"The accused products include road milling machines, and components of a road milling machine such as: scrapers, auxiliary drives, height-adjustable lighting columns, milling drum uncoupling functionality and hydraulically stabilized chassis."
Wirtgen America had filed its complaint, which alleges violation of section 337 of the Tariff Act of 1930, on July 19.
As with Caterpillar's claim Wednesday, Wirtgen has been seeking a limited exclusion order from the commission along with cease and desist orders.
In a statement provided in August to Equipment World, Cat had vowed readiness for a legal battle.
"We are reviewing Wirtgen's claims and are committed to defending our products to the fullest extent," that statement reads. "Because litigation is ongoing, we cannot comment any further."
The Wirtgen patent complaint names Cat and four of its subsidiaries as respondents to the investigation: Caterpillar Bitelli SPA and Caterpillar Prodotti Stradali S.r.L., both of Italy; Caterpillar Americas CV of Switzerland; and Caterpillar Paving Products, Inc., of Minnesota.
According to the International Trade Commission Trial Lawyers Association, a limited exclusion order would prohibit a defendant from importing any products found to infringe patents into the United States