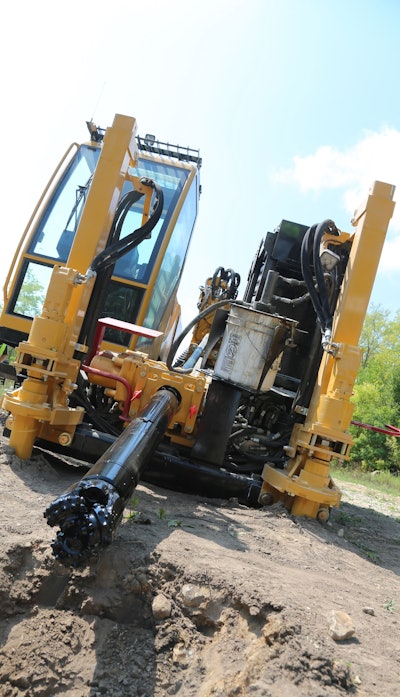 Vermeer's new D40x55DR S3 40,000-pound thrust/pullback horizontal directional drill is designed to tackle challenging rock jobs and give contractors additional crew assignment flexibility.
"Most drillers usually have a dedicated guy to run the rock drill," says Brandon Wagner, application specialist with Vermeer. "This cab is almost identical to our standard D40x50 S3 drill so if a crew member knows how to run that machine, he's going to be able to hop into this machine and run it."
The drill uses Vermeer's new dual rod technology, with a 1.666-inch inner rod that provides torque to the drill bit, and a 2 5/8-inch outer rod for steering and rotation torque. The hollow inner rod design results in more drilling fluid flow to the drill head on pilot bores and the hole opener during pullback, says the company.
With this rod design, Vermeer says the time and steps required to add or remove a rod is cut by 30 percent compared to previous models. And contractors can run a variety of tools, including rotary, drag cutting and roller cone bits, as well as an air hammer.
"You can run an air hammer just by taking off the bit, putting the air hammer on, hooking up an air compressor and a mud pump and you're ready to go," Wagner says. "So, when you get into hard rock conditions, it's not a huge task to change to an air hammer."
Powered by a 140-horsepower John Deere engine, the 5,500-foot-pound rotational torque machine can carry up to 500 feet of drill rods onboard. It has a carriage speed of 115 feet per minute and a sound power rating of 104 decibels.
Introduced with the D40x55DR S3 is the RH15 drill head, which can handle 1,500-foot-pounds of inner rod torque. Vermeer says it is "designed to give operators excellent steering control and sonde security using a proven roll pin lid."