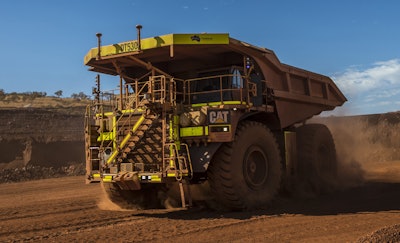 The number of mining trucks driving themselves on Caterpillar's autonomous Command system will soon more than triple through the expansion of a deal with one of the world's largest iron ore producers.
Cat announced today that Australia's Fortescue Metals Group has ordered 100 mining trucks be retrofitted with the autonomous mine truck platform at its Chichester Hub along with an unspecified number of trucks at its Solomon Hub. Both operations are located in the Pilbara region of Western Australia.
Since 2013, Fortescue has put 56 autonomous Cat 793F trucks into operation at the Solomon Hub. The new deal with Cat will activate more 793Fs there, while Chichester will see the infusion of 793F and Komatsu 930E models operating on the platform. As we reported last week, the Cat Command system is brand agnostic, capable of retrofitting to a mining operation's mixed truck fleet.
Cat says the autonomous trucks at Fortescue's Solomon operation have achieved 20 percent greater production than manned trucks working in the same mining complex. These 56 trucks interact with more than 150 manned vehicles – graders, loaders, water carts, light vehicles and dozers – managed through the Cat MineStar System.
In 4.5 years of operation, Cat says its autonomous trucks have hauled 400-plus million metric tons of material with greater than 99.95 percent system availability, all without a lost time injury. And because there are no shift changes, breaks or lunches, the trucks put in an average of 2.5 hours more work a day more than manned vehicles.
Caterpillar is working closely with Fortescue, Thiess Contractors, and the Cat dealer in Western Australia, WesTrac, to provide a solution for managing, operating and supporting Cat MineStar System and Command for Hauling.
"Caterpillar is pleased to build on the success we have had working with Fortescue to implement autonomous mining solutions," said Jean Savage, Caterpillar vice president with responsibility for the Surface Mining & Technology Division. "Working with all the partners, we look forward to growing the entire MineStar suite of technology products throughout Fortescue's operations and working with them to drive process efficiency, increase productivity, lower cost per tonne and enhance safety."