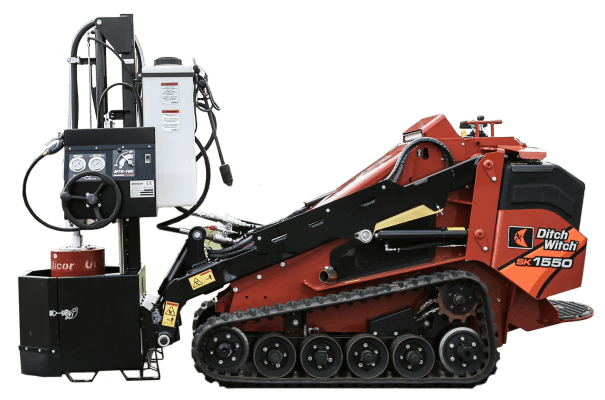 Ditch Witch has entered the keyhole coring market with the MTC100 attachment created in partnership with Utilicor Technologies.
The Utilicor MTC100 fits on Ditch Witch's SK series of compact skid steers to provide fast and less disruptive repairs on utility lines beneath roads and sidewalks. Utility lines can be fixed without having to bring in large excavating equipment. And because the work can be completed much faster than traditional means, roads don't need to be closed as long.
The MTC100 can cut up to an 18-inch-diameter hole 22 inches deep with minimal surface disruption, Ditch Witch says. Vacuum systems then excavate down to the utility line for maintenance that can be performed from the surface with long-handled tools. After the repair, the original core is bonded back into the pavement, eliminating the need for patching or repaving.
Ditch Witch says the keyhole coring method can cut repair costs in half, and roads can be reopened within 30 minutes.
Ditch Witch says it is now selling Utilicor products through its dealer network. The MTC100 works on SK800, SK1050 and SK1550 compact skid steers.