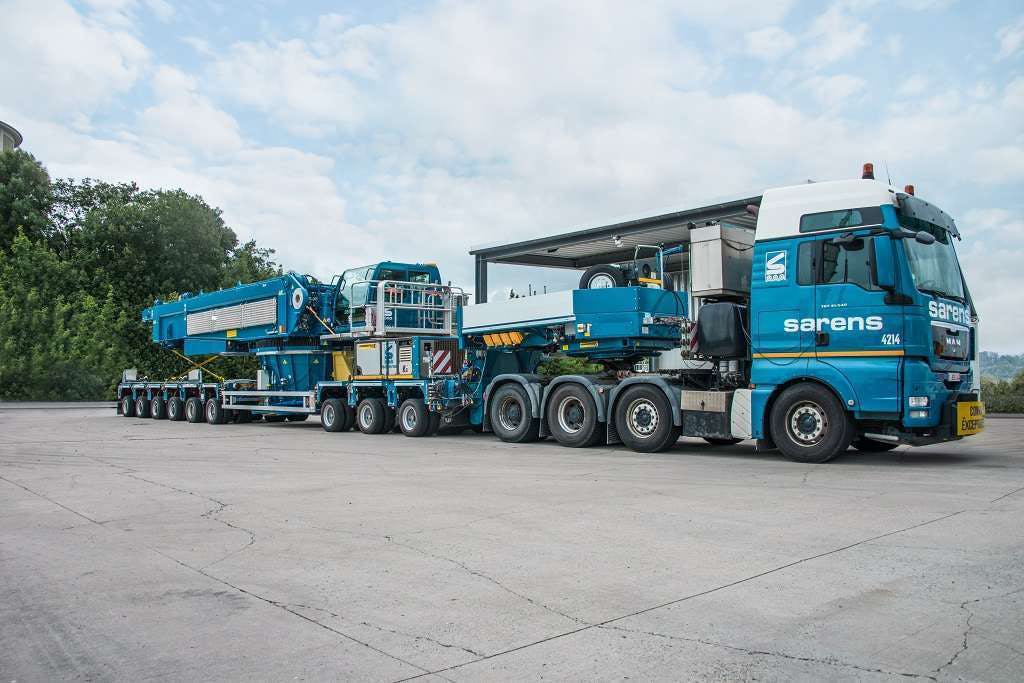 Terex has introduced a new Demag pedestal crane the company says reduces jobsite prep time and allows contractors to access jobsites unreachable by standard crawler models.
The new PC 3800-1 does not require leveling supporting ground across a large area in order to achieve nominal lifting capacity. Instead, only four spots need to be prepared for the outrigger supports and these spots don't need to be perfectly level. "The outrigger cylinders can compensate some tolerance on the ground's flatness—up to 2.1 degrees with a 12 x 12 m outrigger base," Terex says.
The foldable outriggers can be positioned at 12 x 12 and 14 x 14 with Superlift and at 16 x 16 without.
The company notes that existing pile foundations can be used as outrigger supports for the PC 3800-1 when providing sufficient stability.
"The crane offers additional possibilities for long-reach lifts where the lifting capacity of a crawler crane would normally be limited," Terex says. "The PC 3800-1  also provides increased lifting performance in several configurations or requires less counterweight for the same or slightly higher lifting capacities. Less counterweight means fewer trucks, translating into significantly reduced transportation costs."
Demag also offers an adapter to connect the carbody of the crane to a Self Propelled Modular Trailer or axle lines. "Axle lines are commonly found on jobs involving lifting bridge sections, gantries or wind turbine assemblies , which means that the crane can be easily relocated on a jobsite partially rigged, while leveraging the use of axle lines," Terex says.
Other optional accessories for the Demag PC 3800-1 pedestal crane include a quick connection to un-deck the superstructure from the chassis and different sizes of outrigger mats.
Terex says the PC3800-1 can be purchased as a complete crane or the carrier itself can be purchased as a retrofit option for the Demag CC 3800-1 crawler crane and its predecessor, the Superlift 3800.