Komatsu has introduced a new lineup of forwarders that offers improved performance and operator comfort and includes a new 12-metric-ton model.
The four-model lineup includes the new 845 along with the updated 855, 875 and 895 models. Each of the new models are powered by Tier 4 Final engines and the three returning models feature horsepower and torque increases nearly across the board. Here's a quick spec breakdown.

Komatsu says the engines powering these new forwarders also feature high torque backup, high capacity cooling systems and lower noise levels.
Design improvements
In addition to more powerful engines, the new forwarders are more capable in rough terrain thanks to larger hydrostatic transmission (HST) pumps and/or motors which increase tractive effort between 3 and 11 percent, depending on the model. Komatsu says the HST control unit on the machines continually responds to changes in terrain, load, engine power output and crane usage.
The forwarders feature 42-inch articulated steering, a V-shaped steel-frame bottom and a more than 1-inch increase in ground clearance over previous models. The front blade arm design has also been improved for better front-end ground clearance.
Komatsu F-series parallel cranes offer 14 percent more lifting torque and 32 percent more slewing torque over previous forwarders.
The machines also feature Komatsu's new FlexBunk system with multiple frame lengths. This system optimizes load space to maximize productivity. Plus, the 845 and 895 feature the latest version of Komatsu's patented rugged FlexGate headboard, which "flexes" when hit by the crane or log, while the 855 and 875 use Komatsu's fixed headboard with hydraulic telescopic upper gate.
Cab improvements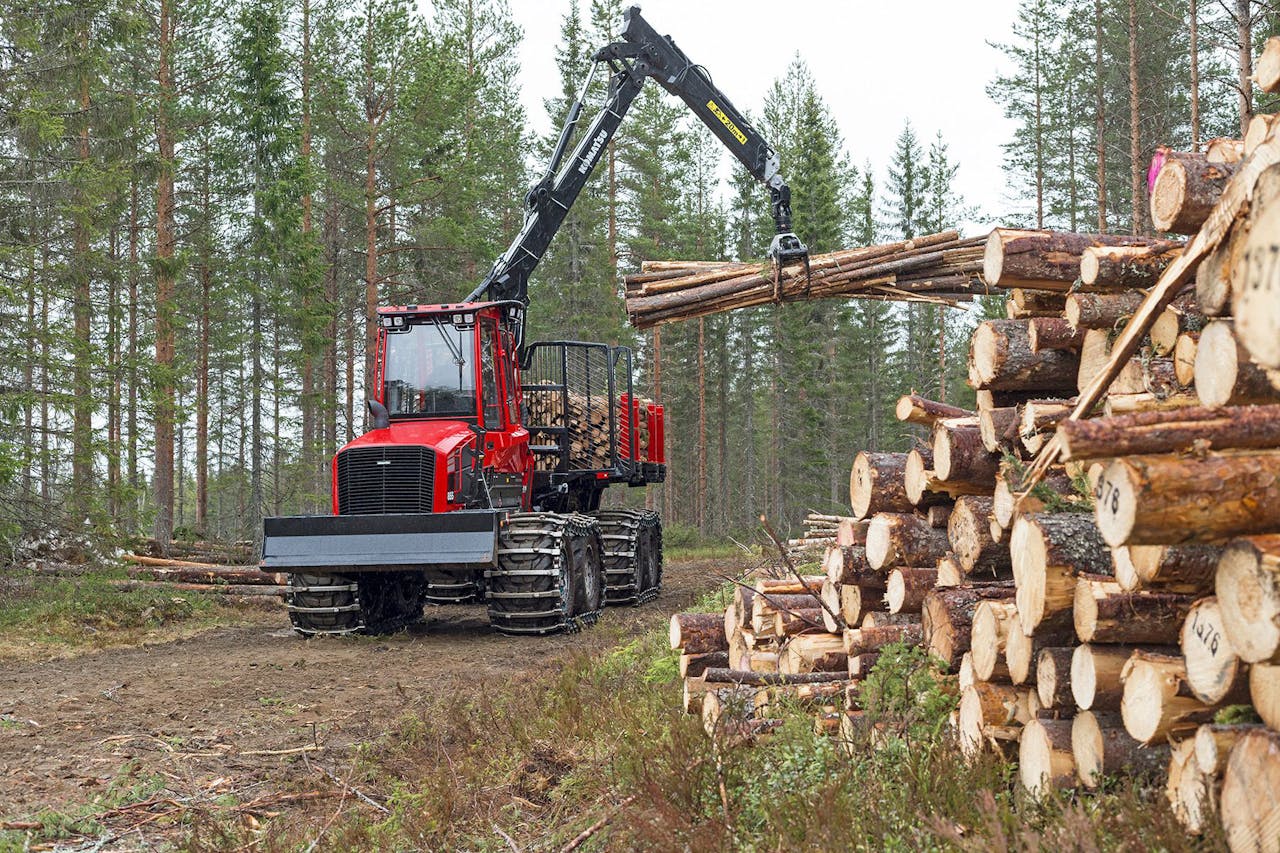 Inside the cab, operators will find large windows with 360-degree and upward/downward line-of-sight visibility, Komatsu says. The new lineup features 14 LED working lights, an air-suspension and vented seat, adjustable armrests and hand controls, climate control and a deluxe stereo system with support for AM, FM, CD, MP3, USB, Bluetooth and SiriusXM playback.
The cab offers multiple covered and open storage areas including heating/cooling boxes for food and beverages on the 855, 875 and 895. (Hot and cold boxes are an available option on the 845.) The 855, 875 and 895 also feature Komatsu's Comfort Ride hydraulic cab suspension system for a smoother ride.
Rounding out the new cab is a new more powerful computer and Komatsu's MaxiXplorer control and information system which allows the operator to track production, adjust settings and track machine functions and status.