With the North American and European launch of the 950 GC wheel loader, Caterpillar says it is bringing a machine stateside that has proven itself to be a high-performing, reliable and budget-friendly machine in lesser regulated countries.
Telematics played a big part in the development of the 950 GC, Cat says. In addition to helping customers keep track of when, how hard and where their machines are being used, Cat's Product Link telematics provide its engineers with a lot of detailed data useful in improving the designs of its machines while developing new ones aimed at specific use cases.
Using lessons learned from telematics data gathered on its 950 wheel loaders, Cat developed the 950 GC as a lower-spec machine designed to appeal to lighter duty operations. Priced 15 percent lower than the full-spec 950M, Cat says the 950 GC excels in stockpiling, load-and-carry, hopper charging and truck loading applications.
Specific to construction jobsites, Cat says the machine is adept at site prep, backfilling, cleanup and, when equipped with pallet forks or a material handling arm, medium duty pipe handling and material handling.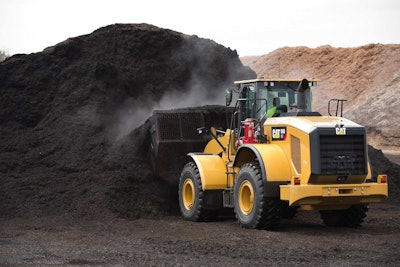 The 950 GC features Z-bar loader linkage, load-sensing hydraulics, 12 feet of loader arm clearance and what Cat calls a best-in-class hinge pin height of 13 feet, 9 inches.
A Tier 4 Final, 241-horsepower Cat C7.1 ACERT engine powers the loader and offers a fully automatic and passive regeneration system requiring no need for an ash service interval while consuming diesel exhaust fluid (DEF) at a rate of only 2-3 percent of fuel burned. The 950 GC also features Cat's Engine Idle Management system, Engine Idle Shutdown and on demand cooling fan which optimize fuel efficiency.
The engine is paired with a power-shift transmission and a 4F/3R electronically controlled countershaft.
Inside the cab operators will find an interface panel with six analog-like gauges, colored indicator lights and an LCD screen. The pilot-operated implement controls feature an integrated kick-down switch and a remote directional shift switch. A joystick implement control is an available option.
Cat says the control system is easy to learn, adding that even operators with only a few hours in the seat will find it intuitive.
Ground-level, grouped service points provide easy maintenance access to the machine's hydraulics and electrical systems. Gull-wing side panels and a tilt-up rear grill provide access to the radiators, filters and sampling ports while grease fittings for the machine's difficult-to-reach components are grouped for easy access.
Editor's Note: Marcia Gruver Doyle contributed to this report.
Quick Specs