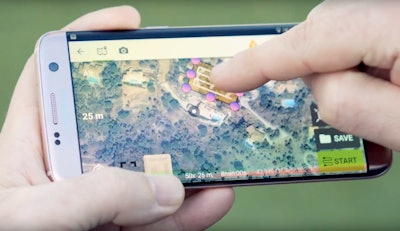 As the market for commercial drone solutions continues to accelerate within the construction industry, an established player in the civil/hobbyist market has announced its first aerial imaging package aimed squarely at industrial use. And it is definitely worth a strong look from any contractor considering getting started with the technology.
Drone manufacturer Parrot is introducing the Bebop-Pro 3D Modeling pack which includes the company's Bebop 2 drone, a Skycontroller 2 remote control, the free Pix4Dcapture app and one year of access to the Pix4Dmodel app for processing aerial images into a 3D model. The package also includes extra batteries and a backpack for transport. Parrot spokesperson Ashley Simmons says the Bebop-Pro 3D Modeling pack is the company's first product aimed at the building industry in the U.S.
The new package is ideal for real estate and construction professionals, Parrot says, and can be used to create marketing content, progress stills and images, create 3D interactive models, capture measurements for cost estimates or for 3D model printing.
Like other drones, Parrot's Bebop 2 can be piloted manually. But this system can also autonomously capture and upload data for fast, cloud-based 3D model processing—all from a smartphone. And if these capabilities sound familiar to you, that might be because Kespry, the drone maker and aerial intelligence platform aimed at construction and mining, also offers similar autonomous data collection and cloud-based processing functionality. But Kespry's Drone 2s package will set you back an annual lease of around $30,000.
Parrot's new commercial pack only costs $1,099, plus a subscription fee to the Pix4Dmodel software after the first year.
Bebop 2 drone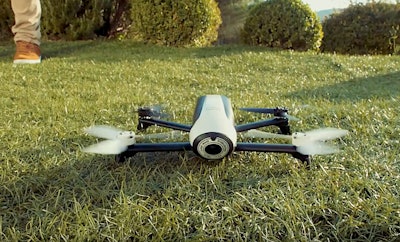 The hardware Parrot is including with this package is the Bebop 2 which has been pretty successful in the civil market. Weighing in at only 500 grams (1.1 pounds), the Bebop 2 can be piloted in one of three ways:
♦ Over Wi-Fi using a smartphone or tablet
♦ The Skycontroller 2, a remote control that extends control range up to 2 kilometers
♦ Autonomously using the "Flight plan" feature in the Pix4Dcapture app, which allows users to set waypoints along a pre-determined course. (Detailed below.)
The Bebop 2 features an integrated 14 megapixel, digitally stabilized camera that shoots full 1080p HD footage. Flight time is about 25 minutes per battery.
Software
The bundle includes Pix4Dcapture, a professional photogrammetry tool that allows flight plan creation. Parrot says that in about 10 minutes a user can create a flight plan on their tablet or smartphone and watch the Bebop 2 fly over the predetermined zone collecting images and data.
And in about 30 minutes, Parrot says those data and images are then analyzed and converted into a 3D model through the Pix4Dmodel software. And depending on the nature of what you're trying to get out of the software, you can process the data in one of two ways: in the cloud or on your desktop computer.
When using the cloud option, the images and data captured by the drone are uploaded to the cloud and processed. A few minutes later the model can be exported or shared online, Parrot says.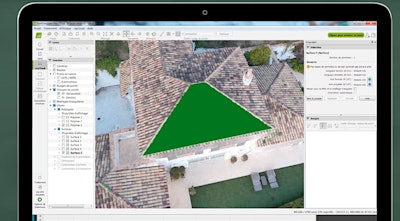 But if you're creating a virtual tour of a property or jobsite or you're needing to extract measurements from the model, you can use the Pix4Dmodel desktop software. There you can access more advanced features like viewing, editing, measuring and video editing.
As we noted earlier, according to Parrot's press materials, this package includes one year of access to the Pix4Dmodel. That would imply that after the first year you'll have to pony up a subscription fee to continue using that particular software. Parrot doesn't say how much that will cost in its press release, but according to the Pix4D website, access to Pix4Dmodel is only $500 per year or $50 per month. That subscription buys you unlimited data processing, forum support and access to both the desktop and cloud functions of the software.
So, if you're interested in autonomous drone data capture and processing but think the Kespry service is too large an investment for your business at this time, we'd recommend giving the Bebop-Pro 3D modeling pack a look when it goes on sale in May. The package will be available at parrot.com and at professional retailers.