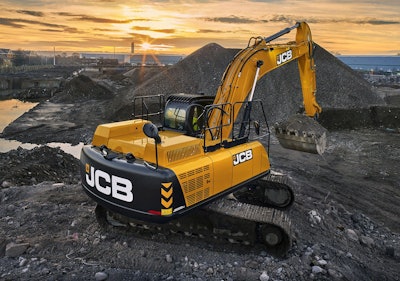 JCB is making a change when it comes to the engines inside its three largest crawler excavator models.
The U.K.-based construction equipment manufacturer has decided to award Germany's Rolls-Royce Power Systems with an order for MTU Series 1000 engines to power the JS300, JS330 and JS370 excavators.
These machines were previously powered by Isuzu engines.
JCB says it will unveil a new JS370 model at ConExpo next month powered by the MTU 6R 1000.
Though the move will mark the first excavators to be powered by Rolls-Royce engines, it represents the expansion of a partnership between the engine maker and JCB that includes use of the same 6-cylinder Series 1000 engine in JCB's 457 wheel loader.
The MTU Series 1000 engine provides 180 kilowatts (241 horsepower) to the JS300 and 210 kW (281 hp) to the JS330 and JS370. Rolls-Royce says the Tier 4 Final engines use 10 percent less fuel than the Isuzu engines in previous versions of these excavators.
"Use of our engines in JCB's new excavators marks our entry into another very important and high-volume segment of the C&I market, and we are very proud that JCB is choosing to endorse our EU Stage IV-compliant units," says Bernd Krüper, vice president of Industrial Business including Construction & Agriculture at MTU. "This is another step forward in our long and successful partnership."