With just a few days left in 2016, we've gone back through our thousands of posts to determine the top 10 construction equipment videos on the site for the year.
These are ranked in order based on the number of clicks you, our dear readers (and watchers), provided. And this might actually be our favorite mix of videos since we started doing this annual roundup. So join us as we take a look back by scrolling through the videos below.
#10: Chevy and Ford butt heads over truck bed puncture testing (and Honda awkwardly inserts itself)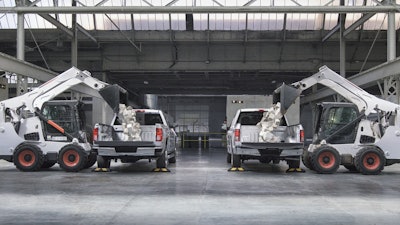 In a memorable swipe at Ford, Chevrolet in June released a video showing various comparison tests that left Ford's aluminum F-150 truck bed severely punctured and looking like "Swiss cheese", according to one observer.
Ford dismissed the tests as marketing stunts and said that its lead over competitors in the pickup segment continues to grow.
Chevy reported subjecting a 2016 Chevrolet Silverado and a 2016 F-150 to the same three puncture tests on the vehicles' truck beds. Twelve pairs of trucks were used during the tests, most of which were conducted in front of consumers invited by Chevy.
In one test, 55 landscaping blocks weighing more than 825 pounds were dropped from a skid-steer bucket five feet above the truck beds. The steel bed of the Silverado had dents and scratches while the aluminum bed of the F-150 had dents, scratches and punctures. After a total of 12 drops, Chevy reports that the Silverado had no punctures while the F-150 had 55.
In the tool box drop test, a tool box weighing 28 pounds was pushed diagonally off the side rail of the truck bed so that a corner of the box would strike the floor of the bed. After a dozen drops, the Silverado had two punctures while the F-150 had 13.
And later that month, Honda jumped into the middle of this scuffle with an impressive demo of its own. Though only one load was dropped from a height of roughly four feet, the Ridgeline's composite bed appears to have held up better than the steel or aluminum beds subjected to similar challenges by Chevrolet and Ford.
#9: Amphibious Komatsu D155W dozer is an earthmoving submarine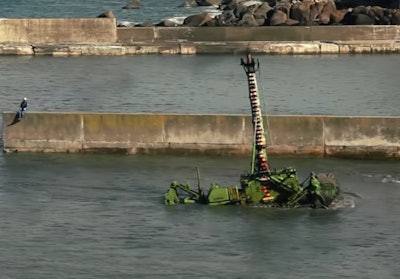 Common in many areas are amphibious excavators, machines able to continue working while treading shallow waters. But those machines are built to float. Komatsu's amphibious D155W bulldozer on the other hand, is more like a submarine with a bucket, meant to work while fully submerged, save for its snorkel-like smokestack.
In the video below you can watch two D155Ws working to restore a harbor in the Iwate prefecture damaged in the 2011 Great East Japan earthquake. According to Komatsu, these machines were actually discontinued in 1993 but were brought back into service by the company to assist in the reconstruction effort.
The machines, operated by remote control, are capable of working up to 23 feet underwater thanks to a watertight compartment housing the engine. Its snorkel-like high stack pulls in air and expels engine exhaust.
Only 36 of these dozers were ever produced between 1971 and 1993. The five remaining are all owned by Komatsu.
#8: Old dozer holds its own in tug battle against 2 tracked tractors
Tug of war videos never get old and this one certainly doesn't buck the trend. Here we've got a matchup of Old vs. New, and while it's not exactly a fair fight, the vintage dozer certainly holds its own against these two tracked tractors.
When the matchup is reduced to one on one, however, it's no contest as the tracked whippersnappers prove no match for this vintage powerhouse.
#7: 3 excavators, 2 dozers team up to move 100-year, 518k-lb. tree to new home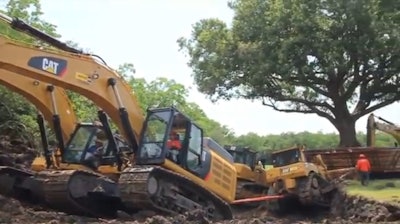 Who knew an old tree could make for such a fun video?
According to the YouTube description for this video, in 2012, League City, Texas, officials decided to finance the relocation of the Ghirardi Compton Oak, a 56-foot-tall tree that is more than 100 years old with a beautiful canopy that is more than 100 feet wide. The tree's original location would have put it in danger due to a road widening project.
But it was no easy task. Weighing in at 518,000 pounds, the job took Hess Landscaping Construction just under a month to complete and the entire quarter-mile-long move is chronicled in the video below. Some really impressive stuff.
And just in case you're interested in how the tree is doing, though many trees don't survive such a relocation, the Ghirardi Compton Oak has made it thus far and is the centerpiece of a new park. However, according to a 2014 report from the Houston Chronicle, the tree was showing signs of a deadly and untreatable disease called Hypoxylon canker. The good news is that Hess Landscaping was able to come back in and do some drainage work that caused the disease to begin retreating.
#6: 3 jacked up pickups in tug of war with Volvo A25G artic would be cute if it weren't so sad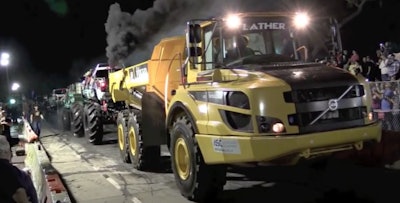 They seemingly had all the straps, shackles, lift kits and giant tires in the world. And yet…
As the emcee says at the beginning of this video "This really could be badass, or it could be boring." We'd contend that it's boring but still definitely badass.
Look, there are three very lifted pickups and an artic strapped together and driving in opposite directions. And the pickups give a valiant effort. It simply can't be helped, and shouldn't be held against the very idea of such a competition, that the artic is an impressive piece of equipment.
So, go ahead and enjoy. It's a foregone conclusion, but it's a fun foregone conclusion.
#5: Crews 'insert' tunnel beneath Dutch highway in just one weekend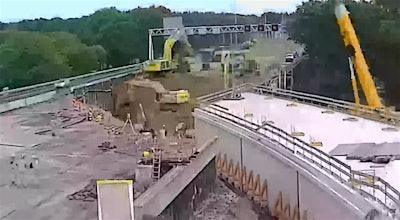 Dutch road construction crews are taking the word efficient to entirely new levels.
In May, crews with Rijkswaterstaat, the infrastructure management agency in the Netherlands, installed a tunnel beneath highway A12 near the city of Ede. The tunnel, which weighs 3,600 tons and measures 230 feet long was installed below the highway in just one weekend, according to the Rijkswaterstaat website, by digging away the highway and inserting the new tunnel.
A time-lapse captured by the agency chronicles the entire process. Pretty impressive.
#4: Excavator operator realizes error, grasps for shore, sinks boat anyway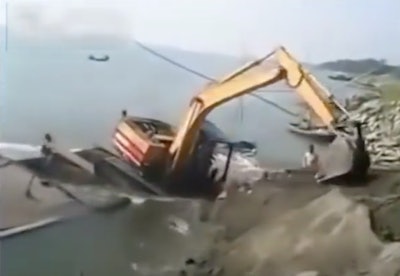 At absolutely no point in the video below, fittingly accompanied by Yakety Sax, does it appear that this excavator is going to successfully board that boat. It looks like a bad idea, goes wrong almost immediately and quickly transforms into a frantic scramble to get the excavator off of the boat.
With the boat lost, the excavator operator then tries to at least save his machine, with one last desperate grab for the shore, but ultimately fails. And to add insult to injury, as the machine tips back into the water, a bucket full of soil falls on his head. Good grief.
#3: Watch a Cat track skidder zipline off a mountain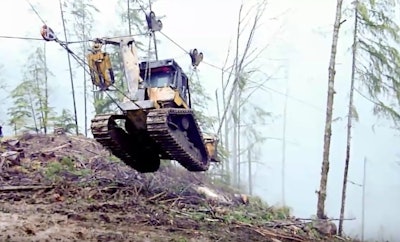 A Caterpillar track skidder is one tough machine. It's built specifically for log skidding and, according to the Cat website, all the "mountainous and soft underfoot" conditions that type of work includes.
But sometimes it's not as simple as driving these machines in and out of the site. Sometimes the grade is simply too steep to traverse safely. That's when you bring in the zipline.
To be sure, this isn't as simple as hoisting this 517 up and pushing it off the mountain. It's a pretty delicate process as the video below illustrates involving an intricate pulley system and another machine to provide the rear hoist. Pretty cool stuff.
#2: Massive earthmover tire explosion shows why you should cage 'em before you inflate 'em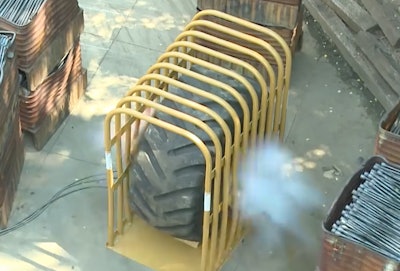 While being within 10 feet of this explosion means you're going to have a bad time regardless, this incredible video from the folks at Ken-Tool shows how having a tire inflation cage can save your life or livelihood.
In the video below, Ken-Tool's 10-bar EarthMover tire inflation cage is put through OSHA certification explosion testing. A 29.5R25 L-3 Earthmover with three-piece steel wheel is inflated to 150 psi at which point it explodes in terrifying fashion. While the blast puffs the cage out like a blowfish, the cage effectively absorbs the explosion and, according to Ken-Tool, keeps all of the tire and wheel components from escaping.
#1: Full-width paving project orchestrates dozens of machines, lays 8,000 tons of asphalt in one day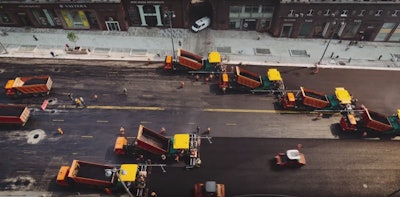 A video by Dmitry Chistoprudov shows a heavily orchestrated performance of paving recently on a section of Tverskaya Street in Moscow near the Kremlin/Red Square area, with the entire width of the roadway being paved at roughly the same time.
Chistoprudov says in the video description that over the course of a day 8,000 tons of asphalt was placed on more than 32,000 square meters, with roughly 300 pieces of equipment involved.
In the video below you can do your own counting of rollers, Vogele pavers and dump trucks. At various points in the video at least 14 rollers can be seen in one frame, five to six pavers in another, and more than 20 dump trucks in yet another.
It would seem a major task to shut down this major thoroughfare, but could be considered worth it if the work was done in one day, as Chistoprudov indicates.