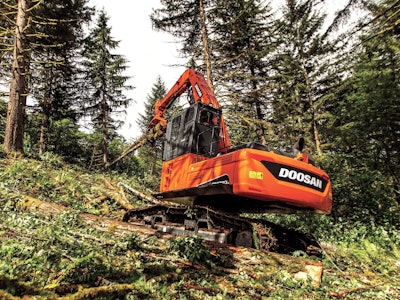 Doosan has added a new size class to its lineup of log loaders with the introduction of the DX380LL-5, its largest machine yet in this category.
Powered by a Tier 4, 318-horsepower engine, the DX380LL-5 boasts high swing torque and approximately 44 feet of reach at ground level.
The machine weighs in at 113,500 pounds and has a lifting capacity of 42,580 pounds over the front at ground level.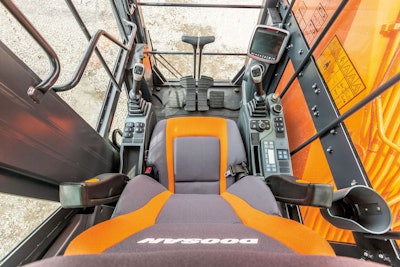 Like the recently upgraded DX225LL-5, the DX380LL-5 features four work modes for matching engine and hydraulic output to the job at hand. Further saving on fuel use is a new auto-shutdown system which shuts down the machine once a preset idle time is met. Operators can adjust this idle time from three to 60 minutes.
The DX380LL-5 is built with thick steel doors and panels along with enhanced heel, arm and boom cylinder guards. The fully guarded upper structure of the machine and high, wide undercarriage are designed specifically to handle the punishment of log loading, timber harvesting, forestry access road construction and maintenance, mill/yard operations and reforestation/fire control, Doosan says.
The machine also features a live heel which works with the log grapple to stabilize logs and sort, stack and load them onto trucks, Doosan says. The log grapple can be rotated 360 degrees for precise placement in truck-loading applications.
Thanks to a standard 4-foot cab riser, the machine offers a higher vantage point which further assists in loading.
The cab features a cab guard and can be tilted for easier transportation. Inside the cab, operators will find a 7-inch display for monitoring fuel consumption, battery voltage, hydraulic pump pressure and viewing the rearview and optional sideview camera.
Standard cab features include an air suspension seat, air conditioning and ample foot room.
Available options for the machine include a straight travel pedal, block heater or diesel-powered coolant heater, and LED front and rear work lights. A rear-entry forestry cab is an available option for Doosan log loaders. This cab allows operators to look through windows in the floor foot pedal area for improved better visibility to the tracks.