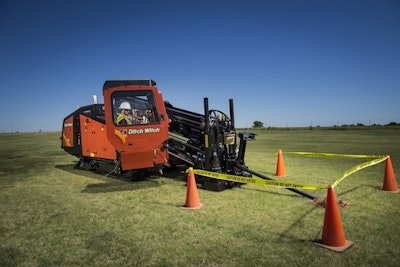 Ditch Witch has introduced upgraded models of its JT60 horizontal directional drills the company says boast better drill power and improved cabs.
The new JT60 and JT60 All Terrain are now powered by 200-horsepower Tier 4 engines that boost drill power to 60,000 pounds of thrust and 9,000 ft.-lbs. of rotational torque.
The company says the JT60 All Terrain's two-pipe drilling system now delivers more raw power to the drill bit than any other rock-drilling system in its class.
"These upgrades increase overall drill power, providing operators with the performance needed to drill through a variety of soils on diverse jobsites," said Seth Matthesen, Ditch Witch's directional drills senior product manager. "This power, combined with innovative design features like the two-speed thrust drive, increases project profitability."
Featuring a footprint that Ditch Witch says is the smallest in their class, the JT60 and JT60 All Terrain feature an automated pipe loading system as well as an optional new wireline platform. Stability during drilling and backreaming is provided by a heavy-duty anchor system in order to allow the machines to use their full thrust capabilities while keeping the bore path stable.
The cab includes joystick controls, a color LCD engine display and an excellent view of all drilling operations. Ditch Witch has also introduced improved noise reduction, a wireless remote for ground drive and a dual-pivot frame for better stabilization and faster project set up.