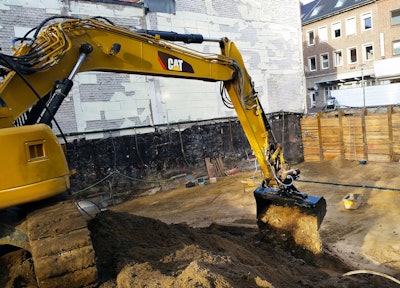 Caterpillar has launched a new lineup of excavator tilt buckets that gives operators more precise control across a range of machines.
Hydraulically tilting 45 degrees from vertical, right and left, the buckets provide added capacity when working on angled surfaces or in precise grading applications. Two horizontal cylinders on the buckets are sized to provide forces matched to the machine, Cat says, and allow the operator to position the bucket and maintain grade without moving the machine.
The buckets are available in both pin-on and coupler configurations and are compatible with Cat crawler excavator models 311-325 and wheeled excavator models M314-M322.
Cat says the buckets come ready for use with its Grade Control 3D technology which provides visual and audio positioning guidance via the in-cab monitor. At the factory each bucket is drilled and tapped in order to accept Grade Control 3D's bolt-on sensor and clips.
The buckets also feature a reversible, wear-resistant, bolt-on cutting edge Cat says provides extended service life. Meanwhile, replaceable, weld-in inserts of 400 BHN steel protect surfaces on the bucket subject to heavy wear, such as corners.