John Deere today launched the rollout of its 944K, a hybrid loader powered in tandem by AC generators and motors along with a 536-horsepower Deere Powertech engine.
The hybrid drive system starts with the engine, which turns twin generators that convert mechanical energy into electrical energy, Deere says. The wheel motors, located on each wheel, then convert that electrical energy back to mechanical energy to turn the wheels.
Deere says this 9 cubic-yard, production-class loader provides a bucket breakout force of more than 83,000 pounds.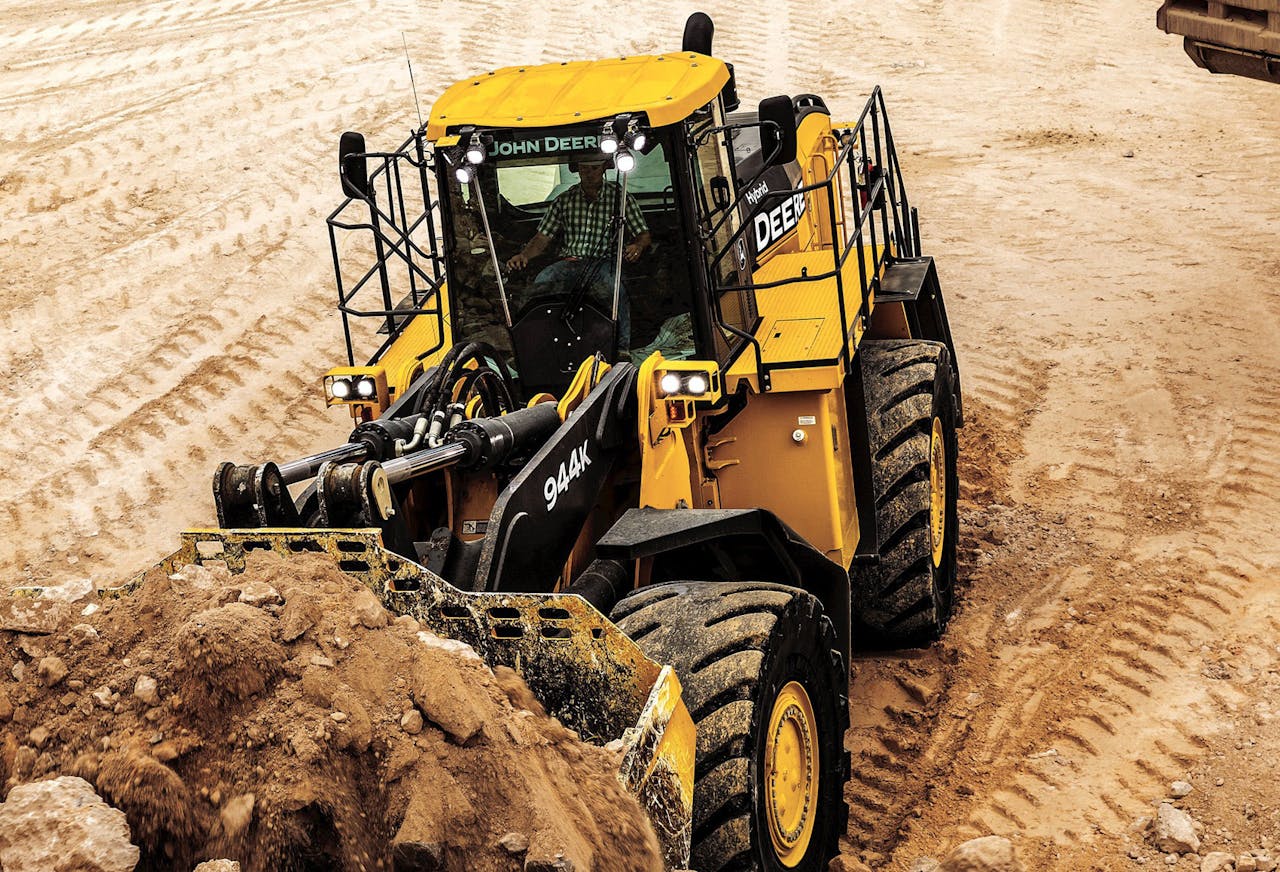 "The highly fuel-efficient 944K Hybrid Wheel Loader delivers quick, smooth and responsive hydraulics, and four modular, independent wheel drives with electronic traction control that provide customers with a complete loader solution built to last through the most rugged conditions," says John Chesterman, Deere's product marketing manager for production class four-wheel drive loaders.
To reduce fuel consumption, when the operator lets off the accelerator, the machine's hybrid-electric drive recaptures energy while slowing the loader. The machine also features two work modes: Normal, which maximizes fuel efficiency by running in a limited speed range of 1,200 to 1,500 rpm, and Performance, which runs at a constant speed for more powerful and responsive boom and bucket functionality.
Though no fuel figures have been given, Deere says the 944K hybrid provides "significant fuel savings" over other 9 cu.-yd. loaders with conventional drive trains.
Deere says this machine is perfect for quarries and other production facilities, highlighting its 12-foot-wide bucket, lack of transmission shifting or clutches and standard traction control which automatically limits torque to any wheel when slippage is detected.
The machine also features enhanced rim pull control to prevent tire spin and slicing along with coast control which slows the loader without braking to reduce brake wear. Coast control features three settings to vary the feel between a conventional torque-converter transmission and dynamic braking with a hydrostatic transmission.
Operators will find a quiet cab with a high view to the bucket and tires along with joystick steering.