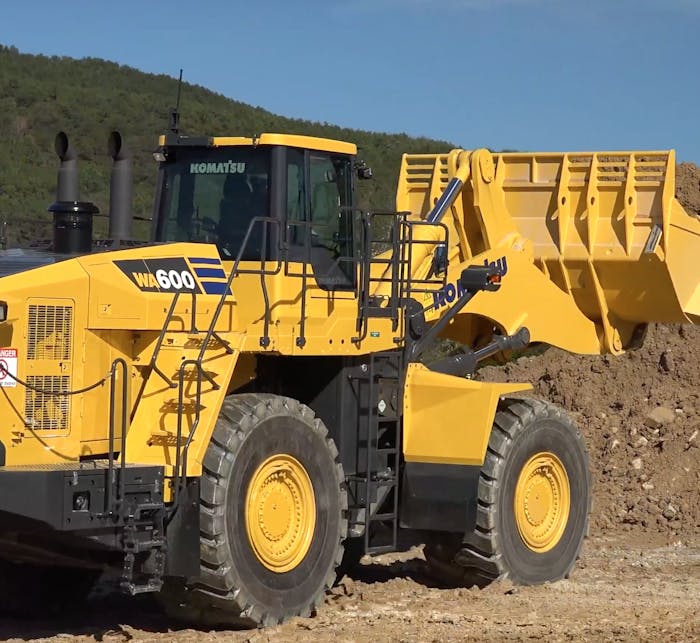 Komatsu has launched a new WA600 loader the company says is faster, more productive and more fuel efficient than its predecessors.
The new WA600-8 is powered by a Komatsu SAA6D170E-7 Tier 4 Final engine which produces 529 horsepower. The company says its work to optimize engine power and improve powertrain and hydraulic efficiency in the new loader has resulted in a 13-percent increase in fuel efficiency.
Specifically, the company's SmartLoader Logic works with a lockup torque converter which activates in 2nd, 3rd and 4th gear to provide just the right amount of torque, bringing improvements to acceleration, top speed and hill-climbing.
With the new dash-8 machine, Komatsu also increased the standard bucket capacity on the WA600 to 9.2 cubic yards. The company says the new bucket design "fills easier, retains material better and provides better visibility."
Plus, 98 percent of the machine's diesel particulate filter regeneration is performed passively, requiring no action from the operator and no work interruption.
The machine also features Variable Traction Control and Modulated Clutch systems to provide the right amount of grip in various ground conditions. Komatsu has also made the following exterior design improvements to the machine:
Full rear fenders with stairs and handrails are now standard for both sides of the machine.
Swing-out cooling fan with wider fin spacing and reversing fan eases cleaning.
Sight gauge at DEF fill cap minimizes overfilling.
Additional hinged panels at each side of machine eases access to regeneration components.
Inside the cab operators will find a new air-suspension, high-back heated seat along with seat-mounted pilot controls with F-N-R switch. A 7-inch high resolution display is accompanied by a full-color rear-view monitor.
Operators will also appreciate a new auto-dig function which Komatsu says "reduces operator effort required to fill the bucket," along with an integrated load meter which displays data live on the machine monitor and on the web through Komatsu's KOMTRAX telematics portal.
Check out the machine in action below.