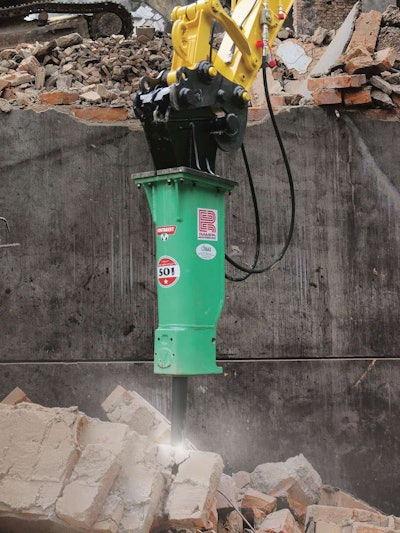 Montabert used the World of Concrete show to debut its 501 NG, or "next generation," breaker.
Designed for backhoes and excavators weighing between 17,647 and 39,683 pounds, the 2,000-foot-pound impact energy class 501 NG replaces the company's 700 breaker, says Eric Chudzik with Montabert.
The model is 75 percent more powerful than its predecessor, even while weighing 30 percent less.
"We eliminated the tie rods, which simplified maintenance," Chudzik says. Operators can conduct routine maintenance with standard tools, including replacement of the all-important bushing. "You always want to make sure the bushing is in good shape, so you need to always check bushing wear," he says.
The breaker delivers up to 870 blows per minute and requires a hydraulic flow rate of between 21 and 37 gpm. The unit's energy recovery system captures and recycles recoil energy from the piston to increase strike power; a blank-fire protection system reduces metal-to-metal wear.
The 501 NG's upper and lower suspension system absorbs harmful vibrations and stress waves, helping extend the life of both the breaker and the carrier. The sound-proof cradle helps reduce noise levels.
Optional features include an air pressurization kit for underwater applications, and an automatic, cradle-mounted grease station that delivers continuous oil flow.