Over the last several years manufacturers have been ramping up the size and horsepower of their skid steers and compact track loaders. But these bigger machines come with a bigger price tag, and with engines above 75 horsepower the cost of emissions technology could add 10 or 20 percent on top of that.
The bigger beasts are great for big jobsites and high production applications, but for landscapers, homebuilders and other utility users, smaller is sometimes better.
At the World of Concrete, Deere departed from the bigger is better trend and introduced a handful of smaller and more affordable skid steers and compact track loaders: the new G series.
"This is all about lowering our customer's daily operating costs," says Gregg Zupancic, product marketing manager for skid steers.
Previously Deere's smallest model in the lineup was its 318E. "To help our customers with their owning and operating costs, we now offer three additional models at lower prices: the 316GR (for radial lift), the 314G and the smallest model in the lineup, the 312GR," Zupancic says.
"The 312G R is about 15 to 20 percent lower in price than the existing 318E that we have on the market today," he says.
The company is keeping the 318 size in the lineup as well but bringing it into the G series. Same goes for Deere's 317 compact track loader. The smaller machines not only cost less, but they can be towed without the need for a commercial driver's licenses and they fit into more restrictive spaces on jobsites.

The five new machines boast more power and fuel capacity along with an upgraded cab. Plus, the vertical lift models feature lift heights over 10 feet while the radial models boast a 20-percent increase in breakout forces.
Deere says the radial lift option on the 312GR and 316GR features an exclusive one-person boom lockout system for safety that can be activated from the cab.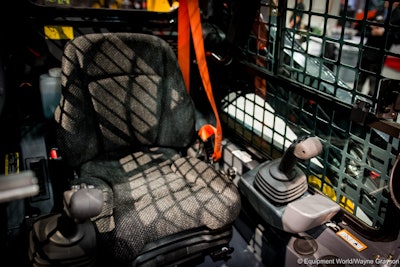 The 316GR, 318G and 317G are powered by Yanmar Tier 4 Final engines and offer a power boost of 24 percent over previous models in addition to an 11-percent boost in fuel capacity.
Deere is marketing the 312GR and 314G as the economy or entry-level models while positioning the 316GR and 318G as the top-of-the-line G Series machines featuring two-speeds, air-conditioning, electrohydraulic joystick controls and a deluxe lighting package. Of the lighting package, Zupancic said side lighting is "uncovered in the marketplace. We add two more LED side lights to help customers see where they're turning before making that turn."
The 316GR and 318G also feature a new self-level and ride control combination with shock-absorbing boom cylinders that cushion bumps, helping retain full bucket loads while navigating over rough terrain. These machines also allow operators to choose between standard foot and hand controls, optional hands-only controls or enhanced (EH) controls that are switchable between ISO- and H-patterns.