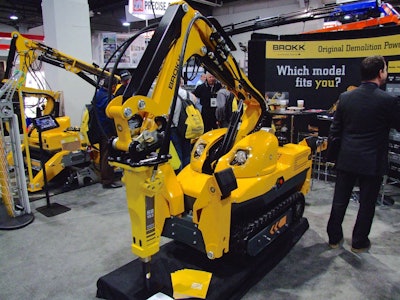 Brokk announced its new 120D model at the World of Concrete, a machine that fills a gap in the company's lineup and is the world's smallest diesel-powered demolition robot. It will be available April 11.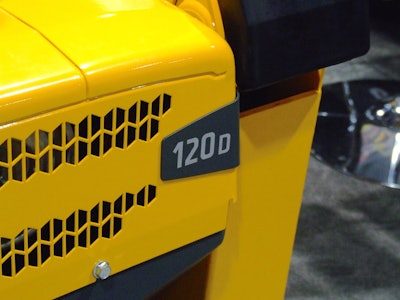 "We developed the Brokk 120D based on the needs communicated to us by our customers facing especially challenging situations, where they need a very compact machine that is completely independent from a fixed power source," says CEO Martin Krupicka. "We are convinced that this new model will bring great value to a variety of difficult applications."
The machine is 49 inches high, 80 inches long and 31 inches wide, small enough, the company says, to pass through standard door openings.
It weighs in at 2,700 pounds, making it light enough to maneuver over weight-restricted floors and easier to transport to job sites compared to Brokk's other machines.
The 120D follows the Brokk 800 and Brokk 400 as the third and smallest of the company's diesel machines. It features a 6-gallon fuel tank, allowing it to run up to 8 hours before refueling. It is similar in size to the electric Brokk 100, and can use the same size attachments.
Brokk says the 120D is designed to be used in several settings in addition to demolition and cutting, such as nuclear plant environments, emergency responder needs (search-and-rescue, explosive ordinance disposal, firefighting), as well as underground utility work.
A situation for the latter would include removing concrete from around underground electric lines, where the safety of workers using jackhammers would be an issue.